Rudbeckia
Published: March 1, 2008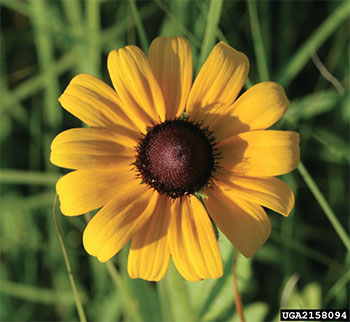 The National Garden Bureau has chosen 2008 as the year to promote rudbeckia as a flowering plant this year. Widely known as black-eyed Susan or coneflower this native, all-American treasure is a reliable choice to flourish in the garden. It produces an abundance of brightly-colored flowers that reflect the brilliant yellows and oranges of the summer sun thus adding cheeriness and warmth to any planting. Rudbeckias are easy to grow, adapt to a wide range of garden conditions, have few insect or disease problems, and require only minimal care for a spectacular show of color summer through fall.
Rudbeckia has daisy-like flowers that come in single, semi-double and fully-double forms in a range of colors from lemon-yellow to gold, chestnut, mahogany, and bronze. Plants have coarse-textured, hairy green leaves. A member of the Asteracea or composite family, rudbeckia and was given its scientific name in 1740 by famed botanist Carlos Linnaeus who was often called the 'Father of Plant Taxonomy'. The genus name Rudbeckia honored Linnaeus's botany professor, Olaf Rudbeck, and Rudbeck's father who had founded the botanical garden at Uppsala University in Sweden. Linnaeus told Rudbeck that "so long as the earth shall survive, and each spring shall see it covered with flowers, the Rudbeckia will preserve your glorious name."
Rudbeckias have been known by a variety of common names including conedisk, conedisk sunflower, tall coneflower, and brown-eyed Susans. Today they are most often called coneflowers, black-eyed Susans, gloriosa daisies or(simply) rudbeckia.
Growing wild throughout the prairies and plains of the Midwest, rudbeckia was used medicinally by many Native Americans to care for both people and horses. The roots and flowers were made into teas and compresses to treat a variety of ailments including snake bites, worms, earaches, indigestion, burns and sores. They were not considered worth of occupying garden space until much later.
An early selection (Rudbeckia laciniata) was sent by French settlers in the "New World" to British plant collector John Tradescant. The plant was shared with others including John Parkinson, the famous English herbalist and an early botanist, and was soon popular in English gardens. By the mid-1800's, the rudbeckia had found its way back to America and was described by one early garden writer as "the darling of the ladies who are partial to yellow."
There are 25 species of Rudbeckia including perennials, biennials and annuals. All are native to North America and are generally found growing in the East and Midwest, though they have now naturalized throughout most of the United States and can be seen in fields and gardens from Canada to Mexico. In garden use, two of these 25 species of Rudbeckia overshadow the rest in popularity.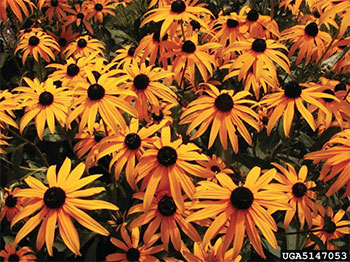 Rudbeckia fulgida is the first of these two species and often referred to in gardening circles as orange coneflower. Despite its name, the petals of these low-maintenance perennial are not true orange but a warm yellow. A popular cultivar of this species is Rudbeckia fulgida var. sullivantii 'Goldsturm' which translated means Golden Storm, no doubt referring to its masses of flowers with pale gold petals. This award-winning cultivar has proven to be a workhorse in the garden. The 2- to 3-foot tall plants are long-lived and reliably produce an abundance of blooms from midsummer through September. 'Goldsturm' can be grown from seed or purchased as a container-grown plant. It is considered hardy in zones 3-9.
The largest species of rudbeckias for the garden is Rudbeckia hirta. Often called gloriosa daisy, there are many varieties available in a wide range of sizes. Flowers bloom from July until frost in shades of orange, orange-yellow and yellow. Rudbeckia hirta is a short-lived perennial and is grown as an annual in Northern areas. 'Indian Summer' is an All-America Selections (AAS) winner from 1995. It produces stunning 5- to 9-inch flowers on plants that reach about 3-feet tall. The golden-yellow flowers are ideal for cutting. Another AAS winner is 'Cherokee Sunset' (Rudbeckia x hirta hybrida). The semi-double and double, 2- to 4-inch, flowers bloom in shades of yellow, orange, bronze, and mahogany. Plants reach about 30-inches tall. The 2003 AAS winner 'Prairie Sun' produces spectacular 5-inch blooms with golden-yellow petals tipped with a brush of lighter primrose yellow surrounding a striking, light-green center cone. The 3-foot tall branching plants can be grown in gardens and large containers. A similar variety with smaller yellow flowers and green centers is 'Irish Eyes' or 'Green Eyes.'
Rudbeckias are easy to grow, low-maintenance flowers that are ideal for novice gardeners, yet their wide range of sizes, colors, shapes and forms appeal to the most experienced plantsperson.. Rudbeckias grow best in full sun in average well-drained soil, but will tolerate light shade and dry conditions. In areas of heat and high humidity, powdery mildew can be a problem. Minimize the occurrence and spread of the disease by planting in an area with good air circulation and maintaining adequate spacing between plants. Rudbeckia is recommended as being deer-resistant, but slugs and snails like to eat the young plants.
Rudbeckias can be purchased as bedding plants in the spring of the year, started indoors from seed or directly seeded in the garden. The latter should be delayed until daytime temperatures are around 60ºF. Perennial varieties can be sown in fall or early spring. Scatter seeds then gently press them into the soil or cover very lightly with soil. Water regularly so the seedbed stays moist. As seedlings grow, thin to 6-8 inches apart. Annual rudbeckias begin blooming about 10-12 weeks after planting seeds. Perennial varieties will bloom the first year in the garden if started early.
The mature size of the plant determines the correct spacing. Allow 8-12 inches between rudbeckias being grown as annuals,18-30 inches for perennial varieties. Dwarf varieties can be planted closer together with 4- to 6-inch spacing between plants.
To promote blooming and extend the flowering period, remove or deadhead faded flowers by pinching off the blooms at the base of the flower stem. If you want to attract birds, leave old flowers on the plant so they can go to seed. Be aware that rudbeckia often self-seeds, resulting in new seedlings sprouting up around the garden. Extra plants may need to be removed or transplanted to prevent crowding.
Rudbeckias are easy to grow with few disease or insect problems. Plants growing in hot, humid climates may be susceptible to powdery mildew or botrytis (grey mold) on their leaves. This can be minimized by planting in an area that receives plenty of light and provide adequate spacing between plants for good air circulation.
Perennial rudbeckias require little maintenance. They do not need to be divided regularly like many other perennials because the center of the plant does not die out. However, if you want to move crowded plants or produce extra plants for your garden, divide clumps in early spring, just as growth begins to develop.
Rudbeckias are versatile plants that add bright sunny color to perennial beds, mixed borders and containers. They can be used alone in mass plantings, as a border, or along a fence. Ideal for attracting wildlife, bees and butterflies are drawn to their colorful flowers while the ripe coneheads provide seed during the fall and winter to feed hungry birds, especially finches and chickadees. In a perennial border, the orange and yellow flowers of rudbeckia combine well with the blues and purples of Russian sage (Perovskia atriplicifolia), liatris (Liatris spicata) and fall-blooming asters (Aster novi-belgii or Aster novae-angliae).
Rudbeckias naturalize easily and are commonly planted in prairie restorations and prairie-style gardens. They look right at home planted with native prairie grasses including switchgrass (Panicum virgatum), little bluegrass (Andropogon scoparius) or Indian grass (Sorghastrum nutans). In the garden, they complement tall, ornamental grasses such as maiden grass (Miscanthus sinensis) and fountain grass (Pennisetum alopecuroides).
Rudbeckia flowers are good for cutting. Ideal for bouquets and arrangements, they stay fresh and colorful up to 21 days after being cut. Their daisy-like flowers are perfect in a cutting garden paired with other perennials such as purple coneflower (Echinacea purpurea), and shasta daisy (Leucanthemum maximum). The dried coneheads add interesting shape and texture to everlasting arrangements and crafts.
Credit: National Garden Bureau