Worst Weeds 2010
Published: November 1, 2010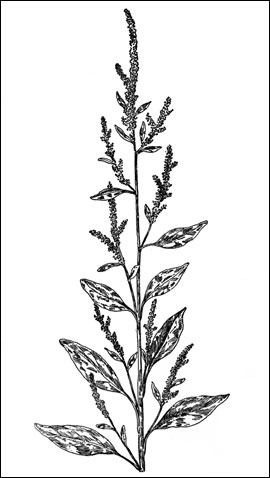 A national weed survey of more than 800 growers, retailers, distributors and university personnel identified the worst weeds in agriculture. Sixty percent of the respondents ranked waterhemp (Amaranthus rudis) as the worst weed. Other top problematic weeds identified were Palmer amaranth (Amaranthus palmeri), common lambsquarters (Chenopodium album), common (Ambrosia artemisiifolia) and giant (A. trifida) ragweed, marestail (Conyza canadensis), and morning-glories (Ipomoea spp).
In Missouri, eleven species of pigweeds are common, some of which are redroot, smooth, tumble, and prostrate pigweed, common waterhemp, tall waterhemp, spiny amaranth, and Palmer amaranth. These weeds are prolific seed producers, especially redroot pigweed, which can bear over 100,000 seeds per plant. Common and tall waterhemp are distinguished from other pigweed species by their floral characteristics, erect growing habit, glossy leaves and the absence of hairs on stems and leaves. Although Palmer amaranth is present in Missouri, it is more prevalent in the southern United States. Because there are herbicide-resistant biotypes of these species, this weed is problematic. Repeated use of the same class of herbicides that inhibit acetolactate synthase (ALS) enzyme, has caused waterhemp to become resistant.
Common lambsquarters is a member of the goosefoot family (Chenopodiaciae). This plant is identified by its characteristic leaf shape, reddish-streaked stems, and whitish gray pubescence on the undersides of leaves. Common lambsquarters emerges early in summer and can produce more than 70,000 seeds per plant that may remain viable in soil for 20 years. Certain populations of this weed have become resistant to triazine herbicides, especially in high producing livestock states where corn is grown with reduced tillage. Repeated use of glyphosate (Roundup® and other product names) and may also result in poor control of this weed.
Common ragweed has leaves with deeply cut leaves, which gives plants a "ragged" appearance. Plant stems are red near the base of the raceme (flower stalks) and the taproot is shallow. Common ragweed is usually one to two feet tall. In contrast, giant ragweed leaves generally have three distinct lobes, but may have up to five lobes. In a field, plants can grow up to 17 feet tall, but they are more commonly one to five feet taller than the surrounding plants. Pollen produced from this weed is especially problematic for those who suffer from allergies, as a single plant can produce about 10 million pollen grains daily and more than one billion during its life cycle.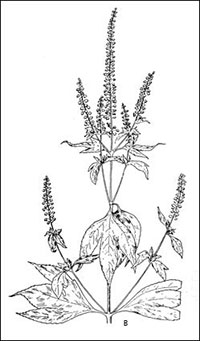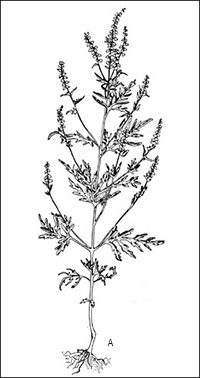 In comparison, a ragweed plant can produce about 5,100 seeds. Stem-boring insects may have a role in giant ragweed survival. After a glyphosate herbicide application, dead tissue is visible in the upper portion of weeds, indicating that the treatment was effective. However, the lower portions of weeds continue to grow. Apparently, the stem-boring insects injure or disrupt the xylem (vascular system), which prevents herbicide translocation from the upper to the lower parts of the plant. Giant ragweed populations resistant to herbicides that inhibit ALS enzyme have been confirmed in Illinois, Indiana, and Ohio. Alternating herbicides with different modes of action during the growing season will slow developing weed resistance.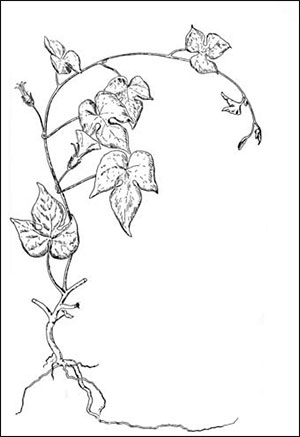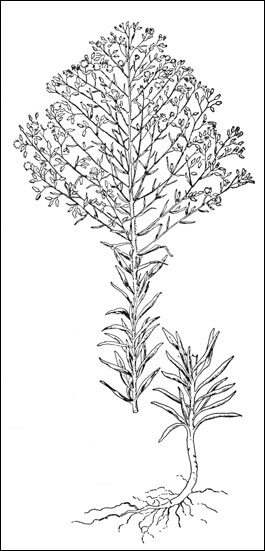 Marestail, also known as horseweed or Canada fleabane, often appears as a rosette of leaves in the fall which then overwinters and bolts in the spring. Mature plants range from one to six feet tall. Leaves on the main stem are progressively smaller toward the top of the plant and numerous small white flowers form a wide spray of growth at the uppermost part of the stem, hence the name marestail. The seeds have white bristles that enhance seed dispersal by wind. Like other problematic weeds, herbicide resistant populations have developed.
At least six different types of morning glories are common in Missouri. However, the ivy-leaved morning glory (I. hederacea) is most frequently found in home landscapes. Although the white, purple, or light blue funnel-shaped flowers may be aesthetic, this aggressive vine can grow ten feet long and become intertwined in more desirable ornamentals.
Because of the twining growth habit of the weed, it is often difficult to control in home landscapes, yet herbicide resistance has been reported in field-grown crops.
While these weeds may or may not be your own worst ones to control, one thing you can always do to prevent the spread of most any weed is to remove them in the seedling stage. While weeds that spread by rhizomes are tough to control, removal of the flowers before they set seed will prevent further dissemination and will not contribute to the seedbank in the soil.