Fire Blight on Ornamental Pear on the Rise
Published: July 1, 2010
A MEG article in the April 2009 issue pointed out some problems observed with ornamental pears (Pyrus calleryana) over the past several years. There has, for example, been a steady increase in the incidence of fire blight, even on cultivars previously considered resistant. Unfortunately, conditions during the spring of 2010 were ideal for development of this disease, and we have some trees on the campus at MU on which nearly every branch tip has been affected. Unlike susceptible pears such as 'Bartlett', most P. calleryana cultivars will not be killed by fire blight within a few years. However, trees can become unsightly and, once the bacterium is established in the branches, it will cause more damage in the future when environmental conditions are favorable.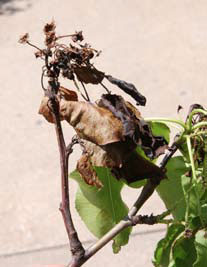 Most experienced gardeners know that fire blight, caused by the bacterium Erwinia amylovora, affects nonresistant host plants in the rose family. It is a major concern for apple growers, since unmanaged infection can cause cankers on the main branches and trunks, leading to major dieback or even tree death. It can also cause serious damage to non-resistant crabapple cultivars. Until the early 1990's, it was assumed that 'Bradford' and more recently introduced cultivars of P. calleryana, such as 'Aristocrat', 'Redspire' and 'Cleveland Select' are highly resistant to fire blight. Unfortunately, the bacterium appears to have mutated, creating strains that are increasingly pathogenic to P. calleryana cultivars, including 'Bradford'. This may have been hastened by the unusually wet conditions that we have had over most of the state in the past few years. Fire blight is favored by wet and humid conditions that allow the bacterium to spread by splashing or insect activity. Damage to succulent shoots from wind and hail can also increase infection.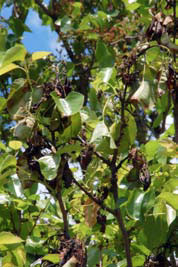 Control measures for fire blight in apple orchards include pruning out infected shoots, dormant sprays with copper fungicides and multiple applications of streptomycin during spring and early summer. Unfortunately, this approach is difficult or impossible in a landscape situation with large trees. Pruning such trees generally requires the use of a bucket truck (ladders are extremely dangerous). It must be done during hot, dry conditions or during dormancy and requires sterilizing pruning tools between cuts to avoid spreading the bacterium. Getting good spray coverage on large trees is always a challenge and large scale spraying with streptomycin in the landscape is irresponsible, as it can lead to antibiotic resistance.
On small or mid-sized trees with a few fire blight "strikes", consider pruning out the affected tips with a pole pruner. Again, wait until the summer heat has dried up the stem cankers and cut back 8 inches into healthy tissue. Spray the saw or bypass pruner in the pole with alcohol between cuts. On larger trees, consider hiring a professional with equipment that will allow safe pruning. Hopefully, the next few years will be less fire blight conducive than the past few. However, I am afraid that fire blight on ornamental pears is a problem that will be with us from now on.
To read a report summarizing results of a study evaluating resistance of various pears and crabapples to fire blight see: http://www.ces.ncsu.edu/fletcher/programs/nursery/metria/metria11/bell/index.html