Selecting a Tree Service
Published: March 1, 2011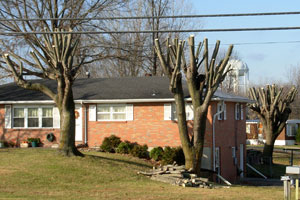 Trees provide a multitude of benefits to people. They produce oxygen, fix carbon, reduce heating and cooling costs, increase property value, and create a sense of well being. It is not surprising, therefore, when people develop strong emotional attachments to favorite trees. If these old friends begin to show signs of damage or stress, it is natural to seek assistance from individuals or companies offering tree care services. Unfortunately, not all of the individuals offering such services are knowledgeable about currently accepted, science-based tree management practices. It is wise, therefore, to do a little investigating when choosing a service to which to entrust your trees. In many cases, a trained professional will determine that an ailing tree will recover with little or no intervention. By contrast, mindless and poorly timed pruning at the hands of an untrained individual can do far more harm than good.
When selecting a tree care company, it is best to ask some specific questions. First, ask for proof of workman's comp and liability insurance. Tree work is hazardous and even the most careful tree care practitioner can have an accident that may cause property damage or injury to workers. Ask whether the company employs arborists certified by the International Society of Arboriculture. If so, this is evidence that company personnel are well trained and knowledgeable about currently accepted practices. Ask for references or for locations where the company has done recent work similar to that proposed. Don't hesitate to ask previous clients for their opinions or to visit the sites. If the company in question uses spikes to climb trees or practices tree topping, find another (see http://www.moreleaf.org/pdfs/Kindest%20Cut%2009%2011%202009.pdf ). Consider obtaining several bids for the work. In each case, ask the company to give a specific description for the work included in the bid. You may have to pay for the bids, but it is generally worth the cost in peace of mind. Do not automatically select the lowest bid. Pick the one that makes you most comfortable.
Get it in writing. Tree care companies often ask their customers to sign contracts. Again, the contract should describe the work to be done specifically. Ask questions to find out when the work will be done, who will be responsible for cleanup and, if it is determined that more work should be done, what hourly rate will be charged.
The International Society of Arboriculture (ISA) maintains a database of all ISA certified arborists. Visit http://www.isa-arbor.com/faca/findArborist.aspx, enter your zip code, and you will see a listing of ISA-certified arborists in your area. Not all of these individuals do tree work, but you can narrow your search to arborists who are "for hire".