Buddha's Hand Citron- A Truly Extraordinary Fruit
Published: December 11, 2013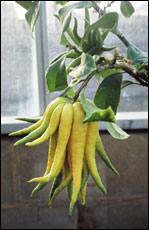 Shopping for a unique gift for avid cooks or gardeners? How about adding an extraordinary Buddha's hand or fingered citron (Citrus medica var. sarcodacylis) citron to perk up your usual fruit basket? These fruits are about six to twelve inches long with five to twenty segmented carpels that look like long gnarled fingers (Figures 1 and 2). At maturity, the leathery rind is yellow and extremely aromatic. The rind, or flavedo contains essential oils that are mostly derived from a beta ionone compound. Underneath the rind, there is seedless white tissue, called the albedo, with little or no juicy pulp. Unlike other citrus, the albedo lacks intense bitter flavors so the entire fruit is edible. Zest or tiny bits of of the fruit are used for flavoring savory fish dishes and teas. It has also been used to infuse vodka, for preserves, and when candied, the peel is added to biscotti and desserts, such as pane forte. These fruits aresalso used as a natural air freshener and provide fragrance to cosmetics.
This unique type of citron is thought to have originated in northeastern India, where Buddhist monks carried it to China sometime after the fourth century A.D. "Fo-shou" or Buddha's hand citron is a symbol of happiness and long life in China, where it is used as an offering at Buddist temple altars. It has also been used for medicinal purposes. Currently, in southern China four major types of fingered citrons are grown including the Guang fo-shou from Guangdong and Guangxi, Chaun fo-shu for Sichuan, Yun fo-shou from Yunnan, and Jin fo-shou from Ahejiang. In Japan, this citron is known as "bushukan" and is a popular gift to a household at New Year's as it symbolizes good fortune. Buddha's hand citron is thought to have been introduced into California from Japan in the late 1880's. In the United States, it was mostly grown as a rare citrus species in private gardens until the 1980's when there was about 25 acres of commercial production in California. At University of California-Riverside, researchers are currently conducting citron molecular marker studies and maintain plants in the UCR Citrus Variety Collection. Plants are also available for adventurous hobbyists from nurseries found online.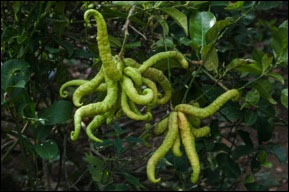 When grown outdoors, these evergreen small trees or shrubs are typically six to ten feet tall. However, they are quite frost sensitive and are adapted to sites within the USDA Hardiness Zones 10 and 11. However, they may also be grown in large containers in colder regions and overwintered indoors in a sunny location. Buddha's hand citron can also be used as bonsai plants. Flowers range in color from white to lavender and are fragrant. The fruit is purple when small, but turns green as it enlarges, and becomes bright yellow when ripe. Fruits are generally found in supermarkets from November through January. Pests, such as the citrus bud mite, citrus rust mite, and snow scale have been reported on Buddha's hand citron trees.