Fall Maintenance for a Healthy Lawn
Published: August 13, 2013
"Spring came very early this year and warm-season grasses such as zoysiagrass came out of winter dormancy about one month ahead of schedule. Pat Guinan, MU Extension Climatologist, indicated that March temperatures were 12 to 14 degrees higher than normal and placed this March as the warmest on record. He also commented that if March's temperatures were laid over April of this year, the monthly average for April would still be 5 to 6 degrees above normal. We also had 18 to 20 days above 100 depending on where you were in the state. After that final rain toward the end of May to the first part of June, we went into one of the most extended droughts on record." These were the facts for spring and summer of 2012. We were about 5 weeks ahead of ourselves on the horticultural and turfgrass side of things. Then the drought changed the color of landscapes from green to brown.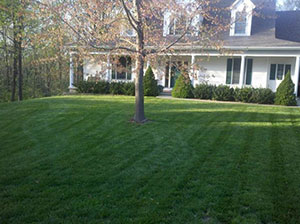 Spring of 2013 was much different. The cool/cold extended spring delayed many plants from budding out (tree foliage) as well as our warm season grasses like zoysiagrass and bermudagrass. The cooler temperatures were making us one of the coolest/coldest springs on record. To date, we have had no days over 100 and only two over 95 for Columbia, Missouri. We had a short period of drought and turfgrasses going dormant; but now, record rains and flooding have hit the southern half of the state. High temperatures in the 70s finished out July and August will appear to me mild as well - great weather for growing turfgrass and ornamentals. This year we were about 4 weeks behind and 180 degrees opposite from last year. Two very different years (at opposite ends of the spectrum) have occurred in two consecutive years.
Weather plays a role in how we manage ornamental plants and turfgrasses every year. Weather controls disease and insect cycles to emerge early in some years and much later in other years (e.g. 2012 and 2013). Keep in mind that weather is not the only instigator to our pest issues. Sometimes our pest issues are due to poor cultural practices.
So, this season has been very mild and lawns are actually looking pretty good for August. Despite the mild summer, there are still some fall management practices that need to be done in preparation for next year.
Aeration
Aeration is the practice of pulling soil plugs to open the soil surface for better nutrient and water movement. It is a practice that also helps to reduce compaction and thatch by spreading soil plugs on the surface. Soil plugs are crumbled and fall freely into aeration holes as well as spreading some soil into the thatch layer where soil microbes can feed on thatch debris. Aeration is a practice that can be done in both spring and fall and is the very best way to begin a fall fertilization program. Applications of fertilizer after aeration will move nutrients immediately into the root zone of your lawn. This practice has shown excellent results by improving turfgrass density and color of cool-season turfgrasses to recover from summer stresses. Spreading grass seed after aeration is also an excellent practice for lawns that have thinned some during the summer.
Aeration equipment can be found at local rental stores or garden centers. Machines that pull a ½ inch diameter plug three to four inches deep on three to four inch centers do an excellent job. Machines that force hollow tines into the soil are better than pull-type drums with spoon-tines. Not all machines will meet these specifications; however any amount of aeration is better than no aeration to kick-off fall fertilization. When using aeration equipment as a tool for preparing a seedbed, shallow divots ½ to 1-inch deep is only required. Creating lots of divots with multiple passes is best.
Over-seeding
Power rakes are an excellent piece of equipment to prepare seedbeds prior to over-seeding. While the entire lawn may not need over-seeding, working thin areas with a power rake will create a fine seedbed to improve seed/soil contact, therefore improving seed germination. Some turfgrass managers and homeowners may decide to renovate the entire lawn. Spraying roundup to control existing vegetation is can be completed in August in order to prepare the seedbed in early September. Tilling the soil 4 to 6 inches deep can reduce soil compaction and prepare that fine seedbed.
Selecting cool-season grasses for Missouri boils down to a choice of two – a turf-type tall fescue blend or a mixture of turf-type tall fescue with Kentucky bluegrass (90%/10% by volume – fescue/bluegrass).
Blends (three to four varieties in equal portions) of turf-type tall fescues can give deep emerald green appearances with a slightly coarser texture than the bluegrasses. They tend to be a deeper rooting plant, therefore requiring less water than a bluegrass lawn. They are not as susceptible to dollar spot and summer patch, but generally will require some fungicides for the control of brown patch disease. Several varieties of turf-type tall fescues offer superior resistance to brown patch and therefore will improve turf quality. Tall fescues will tiller to help with recovery, but tend to be clumpy with severe thinning. Some newer turf-types do provide some short rhizomes (root extensions underground that will produce a daughter plant). These are called Rhizomatous Tall Fescues or RTFs. Fescues grow well in full sun to partial shade.
Mixtures, such as turf-type tall fescues (in a blend) with Kentucky bluegrasses, combine the advantages or strengths of each species to mask the weaknesses of the other. Any grass seed mixture with perennial ryegrass should not exceed 20 percent perennial ryegrass, as they are not heat and drought tolerant and susceptible to most turfgrass diseases. Unfortunately, many seed mixtures available to homeowners at local garden centers contain large amounts of ryegrass (both annual and perennial).
So which varieties do you select once you decide on a blend or mixture to plant? Various resources provide recommendations for turfgrass varieties for Missouri. Garden centers, MU Extension publications, turfgrass specialists, and other lawn care experts are good sources for information about turfgrass selections. The difficulty for most individuals is to find the varieties suggested. Sometimes the best approach is to list what local sources carry and then cross-reference to the varieties recommended for Missouri or contact a specialist.
Blends and Mixtures Available
The number of seed products being sold over-the-counter and by distributors can be overwhelming to turfgrass managers and homeowners. However, by looking at the seed tags on products, several can be eliminated immediately. These include products that contain large percentages of ryegrasses. Many of these seed products are packaged for national sales and while they are excellent products for many areas of the country, they are not the best for the type of climate we deal with in Missouri (the Transition Zone). Concentrate more on the products that are tall fescue blends or mixtures of tall fescue and Kentucky bluegrass. By doing this the choices becomes more narrow and simplified.
Brand names of turf-type tall fescues to focus on include the following at various garden centers. These will generally have some of the better varieties acceptable for Missouri. They include:
Turf-type Tall Fescue Blends

Brand Name
Vendor
Revolution
Ace Hardware, Williams Lawn Seed
Winning Colors
Lebanon Turf, Hummert International, MFA
Independence
Hummert International
Barenbrug RTF Blend
Hummert International
All-Pro
MFA
George's "Magic Mix" Fescue Blend
R. G. Robinson
Pennington Ultimate Tall Fescue Blend
Lowe's, Wal-mart
The Rebels Blend
Lowe's, Wal-mart
Tri-Star Fescue Blend
Orscheln's Farm & Home
Lesco Fescue Blend
Home Depot
Scott's Classic Tall Fescue Blend
Lowe's, Home Depot
Mixtures of tall fescue and Kentucky bluegrass have several nice combinations available at garden centers as well. Many seed companies manufacture the 90/10 combination of tall fescue and Kentucky bluegrass. Of all mixtures, this is possibly the best for Missouri. Some of these products include:
Tall Fescue/Bluegrass Mixtures

Brand Name
Vendor
Fescue Blue Mix
Hummert International
Turf Saver Plus with RTF Plus Mix
Hummert International
Revolution Plus
Williams Lawn Seed
Winning Colors Plus
Lebanon Turf
Tournament Quality Ultra-Premium Fescue Plus Lawn Mixture
Lowe's
Tri-Star Low Water Lawn Seed
Orscheln's Farm & Home
Pennington Fescue/Bluegrass Lawn Seed Mixture
Lowe's, Wal-mart
Master Turf Ultimate Blue Lawn Seed Mixture
Wal-Mart
Several blends and mixtures listed above now include some of the rhizomatous tall fescues (RTFs). They include Revolution, Barenbrug's RTF Blend, and Turf Save Plus with RTF Plus Mix.
Heat and drought is always a major concern during Missouri summers for cool-season grasses. Heat tolerant bluegrass is available in packaged mixes with tall fescue. Scott's "Pure Premium Heat-Tolerant Blue" includes one of these heat tolerant bluegrasses called, "Thermal Blue." Heat tolerant bluegrasses are genetic crosses between Texas Bluegrasses and Kentucky bluegrasses that are designed to provide heat and drought tolerance. They are recommended in areas where tall fescue and Kentucky bluegrass are presently recommended. This product should be available where other Scott's products are sold.
Shade's effect on turfgrasses is a very common question in many lawn situations. Many turfgrasses are tolerant of moderate shade; however no turfgrass is tolerant of total shade throughout the day. The following table does list some mixtures available for moderate shade. Just keep in mind that moderate shade should still allow at least three hours of direct sunlight daily. If you do not have this amount of direct sunlight daily, consider alternative ground covers.
Shade Mixtures (tall fescues, creeping red fescues, Ky. bluegrass and perennial ryegrass)

Brand Name
Vendor
Deluxe Shady Mix
Hummert International
Pennington Smart Seed Dense Shade Mixture
Home Depot, Lowe's, Wal-mart
Pennington Dense Shade Mixture
Home Depot, Lowe's, Wal-mart
Scotts Turf Builder Dense Shade Mix
Home Depot, Lowe's, Wal-mart
Scotts Turf Builder Dense Shade Mix for Tall Fescue Lawns
Home Depot, Lowe's, Wal-mart
The above information is intended to make the selection process for turfgrass seed less troublesome and giving you more confidence in your choices. Be sure to always check with your local garden centers first for availability of these products, since all stores do not carry complete product lines.
Fertilization
Fall fertilization should always start with a soil test to determine what the needs of the soil are, if any. Soil pH is also important as it affects nutrient availability to the plants. Soil test results will give you nutrient levels, soil pH and any information about lime requirements. A soil pH around 6.4 to 6.8 is optimum. Soil pH between 6.0 and 7.0 are acceptable. MU guide #G6954, Soil Testing for Lawns gives information on how to take and submit soil samples to the University of Missouri Soil Testing Labs. This guide sheet can be accessed through the Extension Publications Website at http://extension.missouri.edu/explore/.
Turfgrass managers and homeowners have a wide variety of fertilizers available to them for fall fertilization. Many organic fertilizers, such as Milorganite, Sustane, Earthworks, Nature Safe and Ringer are available and will provide an excellent source of slow released nitrogen. Organic fertilizers do require soil microbes to release nutrients, therefore as soil temperatures decrease by late Fall, performance of these fertilizers may drop off.
More inorganic types of fertilizers are available to turfgrass managers and homeowners and can be somewhat confusing. Many products have much higher amounts of nitrogen and most are soluble forms (quick release) of fertilizers. These types of fertilizers are there and gone after about three weeks. You will get a quick flush of green growth, then a quick tapering off of color and growth. Find fertilizers with a good balance of N-P-K (nitrogen/ phosphorus/potassium) with a ratio somewhere around 3-1-2. Also look at the guaranteed analysis label on the bag and find a product with 30 to 70 percent slow-release nitrogen. This way your fertilizer is released over a longer period of time requiring fewer applications and allowing the plants more time to efficiently utilize available nutrients.
Total fertilizer rates for cool-season grasses in fall should be 2.5 to 3.0 lbs of nitrogen per 1,000 square feet. Amounts should be divided over two or three applications throughout the fall. Possible combinations would include a pound of nitrogen per 1,000 square feet in early September after aeration followed by 1.5 pounds of nitrogen per 1,000 square feet in late October. A second scenario would include a pound of nitrogen per 1,000 square feet applied in early September, October and November. Most fertilizers are complete fertilizers including phosphorus and potassium; therefore requirements for those nutrients should be based on soil test results. Soil test results indicating high to very high amounts of phosphorus and potassium may require applications of fertilizers with nitrogen alone or lower amounts of P and K.
Winterizing fertilizers are usually recommended as the final application in fall for cool-season grasses. Good winter fertilizers will have higher and equal amounts of nitrogen and potassium (first and third numbers of the fertilizer components). However, there are conflicting comments about applications of additional potassium for hardening off plants. Additional potassium does not increase plant tissue potassium if amounts of potassium in the soil are already high to very high. Application of winterizing fertilizers simply insures potassium levels will be sufficient for plants to harden off. If you regularly soil test and know that your potassium levels are high, then a winterizer fertilizer will not provide additional benefit for you. It is a practice of higher importance for warm season grasses (zoysia and Bermuda) in late summer (early September) as opposed to cool-season grasses in late Fall.
Fall aeration, fertilization and over-seeding can make a difference in the health and beauty of your lawn. These fall practices along with mowing tall (3.5 to 4.0 inches) can provide a deeper root system and up to 80 percent control of annual weeds throughout the following season. For more information, contact: Brad S. Fresenburg, Turfgrass Specialist MU Extension, (573) 268-2545