DON'T GUESS -- TEST YOUR SOIL
Published: April 3, 2014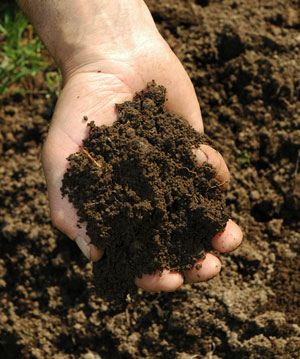 Soil testing is a home gardener's best guide to the wise and efficient use of fertilizer and soil amendments. We frequently get questions from customers like "I apply fertilizer every year. How come my plants are not doing well?" Most of the time the answer is they never have done a soil test, but have been guessing on fertilizer requirements. They do not realize that by guessing they are not only wasting money by over or under application, the excess fertilizer can end up in streams, ponds and underground water polluting the environment.
A recent soil test summary of lawn and garden soils indicated about 55 to 75% of the lawn and garden soils tested high or very high in soil test P levels and about 65 to 80% of the samples tested in high or very high levels of soil test K levels. We see home garden samples testing up to 900 plus lbs of P and 1000 plus lbs of K which is extremely high. So without testing soils and adding a 12-12-12 fertilizer one can keep building their soil test P and K levels which will be harmful to the plant growth and environment.
A soil test is like taking an inventory of the nutrients available in the soil, which can be too high or too low. Although soil testing kits are available in garden centers, laboratory testing is more reliable and the results are accompanied by interpretations and recommendations for the plants of your choice.
Some plants grow well over a wide range of soil pH, while others grow best within a narrow range of pH. For example Blueberries, Azaleas and Rododendrans grows well only on acidic soils. So it is important that you know the pH of soil and use amendments like lime or sulfur to adjust the pH for optimum levels for plant growth. A soil test is the only precise way to determine whether the soil is acidic, neutral or alkaline.
Soil samples should be taken in the spring or fall for established sites. For new sites, soil samples can be taken anytime the soil is workable. Most people submit soil samples for testing in the spring. Since the gardeners apply fertilizers and manures to their soils each year, garden soils should be tested every two to three years.
The test results are only as good as the sample taken. It is extremely important to provide a representative sample to the testing lab so that a reliable test and recommendations can be made for the entire area. Divide the area into lawns, flower gardens, vegetable gardens and take representative samples from each area and submit to the lab for analyses.
This can be accomplished by submitting a composite sample. A good representative composite garden sample should contain eight to 10 cores or slices. Each core or slice should be taken at the same depth (zero to six inches) and same volume at each site. Sample at random in a zigzag pattern over the area and mix the sample together in a clean plastic bucket. More samples need to be taken if the areas was recently limed or fertilized.
The Soil Testing Laboratory at MU offers a regular fertility test that includes measurements of pH, line requirement, organic matter, available phosphorus, potassium, calcium, magnesium and cation exchange capacity. Test costs vary according to the number of nutrients tested. The MU testing lab charges $10 when submitting directly to the lab for a regular fertility test. Several other specific analyses are available. Test reports provide interpretation and nutrient and lime recommendations. Normally samples are processed within a day after being received in the lab. But during the busy time (spring/fall) it can take little longer. Customers should add mail time to get their reports by regular mail service. Lab can email your test results too.
You can contact your county Extension office to obtain Sample Information Forms, sample boxes, and submit samples through their offices. You can also send samples directly to the University of Missouri Soil Testing lab at 23 Mumford Hall, Columbia, MO., 65211. For more information call 573-882-0623. The lab also maintains a website at http://soilplantlab.missouri.edu/soil where useful information on submitting samples, services offered and the sample information forms can be found.