Three Gall-Inducing Mites Recently Described on Black Walnut Trees
Published: October 28, 2015
The incidence of galls, which are plant growths caused by another organism, often increases as trees mature. Three types of galls have been identified on black walnut trees at the University of Missouri Horticulture and Agroforestry Research Center near New Franklin, MO. The black walnut petiole gall, also known as the velvet gall, first appears in April in Missouri and has green densely-matted hairs called erinea. As the growing season progresses, erinea become magenta in color by June (Figure 1), fade to dark red in July, and turn brown by September.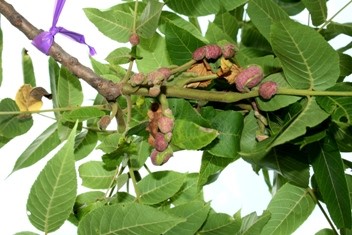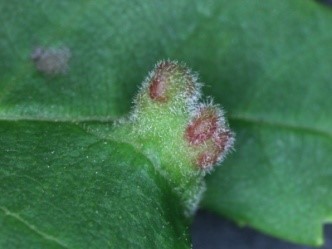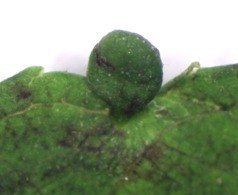 These galls cause twisting of the petioles, deform and inhibit leaflet growth, and limit nut production.  Petiole galls are induced by feeding of Aceria caulis, which is an eriophyid mite.  Within minutes after feeding, cellular changes occur within the plant tissue to sustain the developing mite colony. The gall also protects the eriophyid mites from some predators and provides shelter during the growing season. Overwintering female mites, known as deutogynes, exit the galls usually in early September before the other types of black walnut gall mites.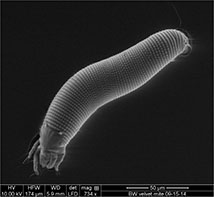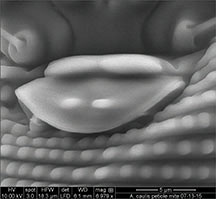 A second type of gall, called the black walnut hairy leaflet gall is often found on trees (Figure 2). This gall is visible by May on both the upper and underside of leaflets and green or magenta-tinged. When examined closely, the gall interior contains erinea-lined chambers containing another type of eriophyid mite. These galls appear later in the spring than the petiole galls and the deutogynes of this species exit the galls later in the fall.
The smooth leaflet gall is the latest gall to develop in May on black walnut trees (Figure 3). It lacks hairs on the outer green surface of the gall, but inside is a mass of twisted and tightly-matted white erinea.  However, in the summer when the mite colony is at its peak, the interior of the gall appears pink or red from many highly-colored mites feeding on the gall wall. These galls and the hairy leaflet galls are much smaller (2 to 3 mm) than petiole galls and may not be not as injurious to the black walnut trees. Deutogynes of this mite species inhabit their galls until October, which is usually later than the other eriophyid species on black walnut.
Because these eriophyid mites are microscopic, scanning electron microscopy has been used recently to examine the anatomical features of larvae, male and female nymphs (protogynes) and the deutogynes (Figure 4). Studies conducted at the University of Missouri revealed that each of the three black walnut galls is induced by three unique species with varying anatomical structures.  While these anatomical features are subtle, they are distinguishing features for the species.  These newly-described mite species that induce the leaflet galls will be named in the near future.