Raise the Deck to Make Your Turf the Trees of Your Lawn
Published: April 29, 2016
Spring mowing is often an exciting enterprise at first, but tends to wear thin as the novelty recedes and the smell of freshly cut grass only reminds of the chore's monotony. Many just want to get it over with, without much thought for what the practice means for the overall health of the plant, and overall appearance of their yard. Mowing is essential for turfgrasses as it forces tillering and lateral spread, allows for a uniform surface, and removes weeds that have their growing point above the cutting line.
According to our observations, many tall fescue lawns are being mowed considerably too short this spring, and not frequently enough. Over 10 separate studies since 1958 have found a direct correlation between mowing heights below 3.5 inches for tall fescue or Kentucky bluegrass lawns and a substantial increase of weeds such as dandelion, white clover, and crabgrass. Mowing too low therefore results directly in more annual weed invasion and a reduction in the turf stand over the summer. How? As the popular song by the band Rush states it's all about the sunlight.
The Maples want more sunlight, but the Oaks ignore their pleas.
– From the Rush song "The Trees"
In quite a few ways, mowing turfgrasses to their adapted height (see table) allows them a competitive advantage over weed species. Higher cut lawns will exclude sunlight, heat and eventually space to annual weeds. The current bank of weed seeds in your lawn need sunlight to heat the soil surface for germination and aid young seedlings in growth. Growing tall, tall fescue robs them of this sunlight and doesn't allow weeds to establish and compete. More importantly, tall fescue lawns are simply healthier at this height.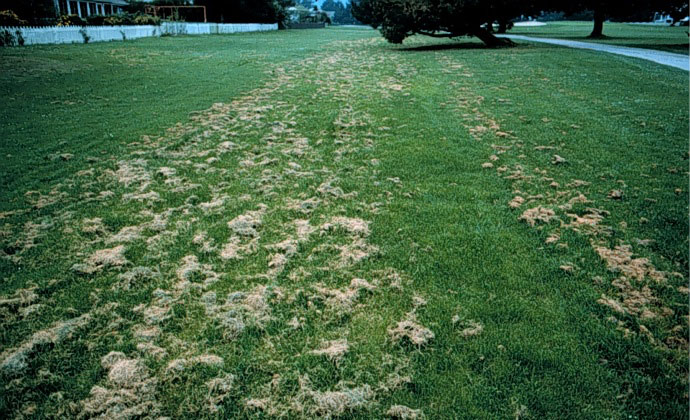 Try to connect the height of the turfgrass with the depth of the rootzone. At this time of spring, tall fescue is getting its last few weeks of luxury growth in perfect temperatures that it can use to build a dense root system. The more leaf blade the plant has now, the more sunlight it can harvest and the more food it can make for itself. When the heat of summer hits in June-August, that luxury will be long gone, and the plant will be subjected to a number of stresses including heat, drought, and disease. The root system built now is analogous to a car you're about to take on a cross-country trip. Would you rather a newer model that has just been tuned or an old car that hasn't had an oil change in 5 years?
| | |
| --- | --- |
| Lawn Species | Recommended Mowing Height |
| Tall Fescue | 3.5-4 inches + |
| Tall Fescue/Kentucky Bluegrass Mix | 3.5-4 inches + |
| Zoysiagrass | 1-2 inches |
---
Mowing frequency is also an issue. To avoid scalping at taller mowing heights or excessive clumping of clippings, mowing may need to be done every 5-7 days when tall fescue or Kentucky bluegrass is really growing during the spring. Additionally, pay attention when weed eating around roads, sidewalks, and lawn margins. The tendency is to cut these areas shorter and scalp the turf, which allows weed emergence and a "ring around the collar" appearance of weeds in a lawn.
Runners carb load prior to a race, and your tall fescue lawn is on the cusp of running the marathon that is a Missouri summer. Mow your lawn often and raise your mower deck to the top notch. In doing so, your desired turfgrass will become trees which hog the sunlight, making ambitious weeds scream oppression.