MU Plant Diagnostic Clinic (MU-PDC) reopened in February 1st, 2021. 276 physical samples and 61 digital samples were received and processed in 2021. Among all the samples, plant disease diagnosis accounts for the majority of the total samples while five samples are for insect identification services and two samples are for weed identification (Figure 1). The samples submitted to the clinic were categorized based on the crop type (Figure 2). Ornamentals were the largest sample category with 99 samples, followed by field crops (72), vegetables (39) and turf (34).
---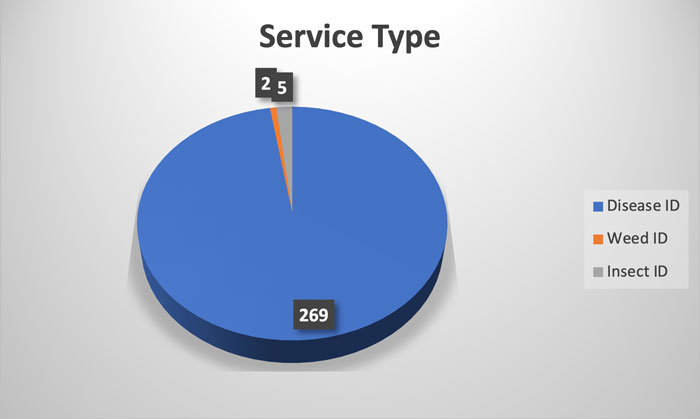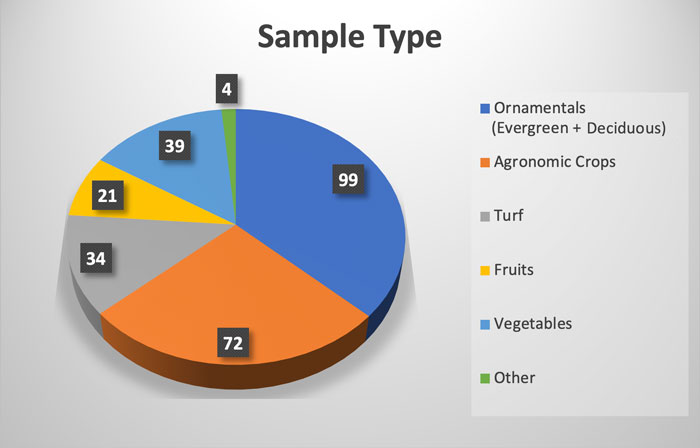 The woody ornamentals are the primary source of samples submitted to the lab and this category includes evergreen plants such as juniper, cypress and spruce pine and deciduous plants such as maple, oak and tulip trees (Figure 3). Tomato (25) takes up the majority of the samples submitted to the clinic in the category of fruit and vegetable samples (Figure 4).
---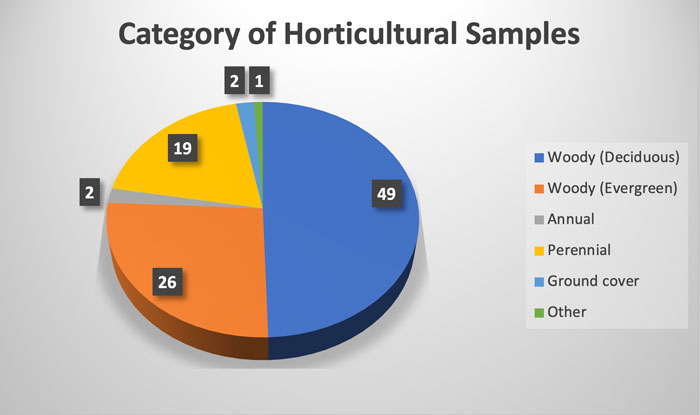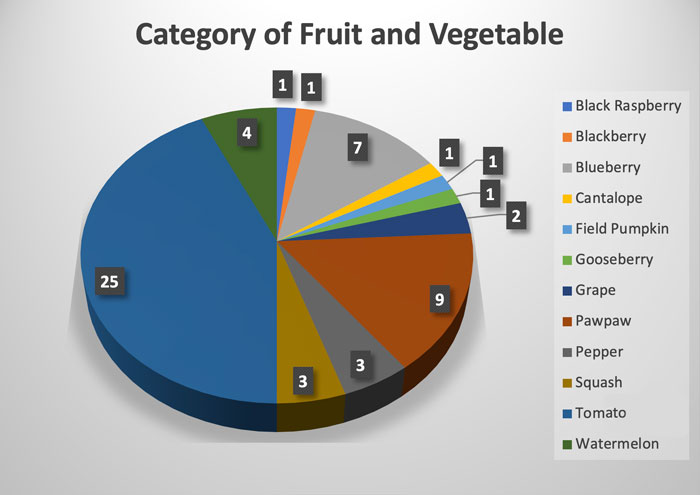 The weather of the first half of the year was very conducive for several fungal and bacterial pathogens. The humid condition early in this season favored foliar pathogen such as Anthracnose which was found on some woody ornamental plants. Later on, under this cool and wet condition, some fungal pathogens such as Septoria spp., Alternaria spp. and Cercospora spp. became very aggressive for woody ornamental, perennials as well as vegetables.
Among the diagnosed tree diseases, we detected winter injury problems from eight samples but herbicide damages from the past might also play an important role in causing these issues. Through the season, we confirmed Anthracnose, Cercospora leaf spot and target spot diseases from maple, oak and sycamore trees. Oak wilt, Bacterial Leaf Scorch (BLS) and Tubakia leaf spot were the three major diseases for oak trees in Missouri based on the sample submitted to the clinic. Four pin oak samples were confirmed positive with oak wilt disease, six oak samples were positive for BLS and Tubakia leaf spot disease became very common especially during the fall, confirmed from four oak samples.
Foliar disease such as needle blight, needle drop, twig and tip blight were more prevalent on the susceptible evergreen trees under environmental stress. Through this year, we have detected Phomopsis Tip and Twig Blight, Dothistroma Needle Blight, Kabatina Blight, Pestalotiopsis Needle Blight and Phyllosticta needle blight from samples such as arborvitae, cypress, juniper and spruce pine.
Some vegetable samples submitted by home gardeners and commercial growers were shown to be affected by chemical damage (Dicamba and 2,4-D products) in the beginning of the season. Root and crown rot diseases and foliar diseases were the two major health issues affecting the yield and quality through the season. Disease management strategies of most of these diseases should be focused on sanitation and the use of resistant varieties.
To improve the efficiency of the clinic services and assist the clients in submitting samples, we launched online sample submission system and online payment system on the webpage of MU Plant Diagnostic Clinic in April, 2021. Based on the data of 2021, we observed increasing number of clients who are willing to use the online submission and payment method (Figure 5).

For appropriate diagnosis, the MU Plant Diagnostic Clinic can help you confirm if your plant has this disease. We encourage you to visit our website (https://extension.missouri.edu/programs/plant-diagnostic-clinic) and review submission guidelines before submitting your sample. If possible, you may take photos and send them to plantclinic@missouri.edu.
We just uploaded a new 4-minute video about sample submission guidelines on YouTube to help you submit your sample step by step. Please click here: https://youtu.be/XEWVT9lUflo.
For sample submission and fee payment, you can either:
1) Visit our new online submission system at https://extension.missouri.edu/services/plant-disease-sample. Fill out the submission form online using your computer or mobile device and make payment online securely with a credit card.
2) Download the submission form at https://extension.missouri.edu/programs/plant-diagnostic-clinic/sample-submission. Fill it out and send to us together with your sample and payment. Check or money order. No cash please.
Contact Information:
University of Missouri-Plant Diagnostic Clinic
28 Mumford Hall
Columbia, MO 65211
Phone: 573-882-3019
Email: plantclinic@missouri.edu
Twitter: https://twitter.com/MUplantclinic