The term "salad greens" does not excite the taste buds of most people the way fresh sweet corn and vine-ripened tomatoes do. This is understandable. However, research has shown that those who regularly include salads in their diet have higher blood levels of powerful antioxidants such as vitamin C and E, folic acid, lycopene, and alpha- and beta-carotene. Additionally, salad greens are low in calories but high in dietary fiber. Is it any wonder, then, that the National Garden Bureau has declared 2022 as "The Year of the Salad Greens?"
Although their names are sometimes unfamiliar and their tastes exotic, leafy greens are popular at gourmet restaurants, farmers' markets, supermarket produce sections and backyard gardens. The extensive variety of greens available today offers textures from crisp to creamy, flavors from sweet to pungent, and colors in beautiful shades of green and red.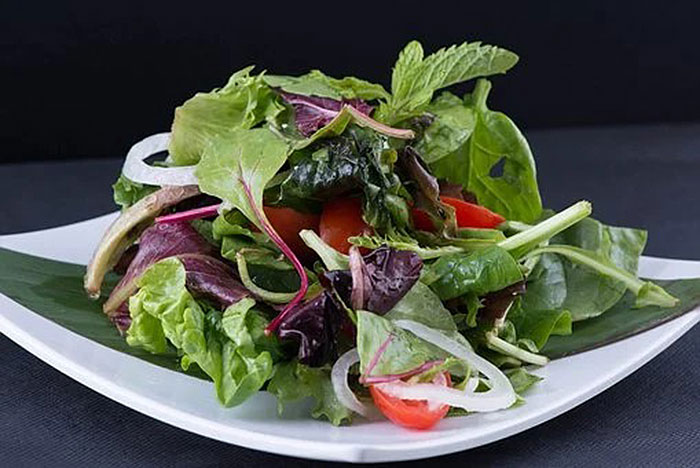 Greens have been consumed by humans for millennia. There is evidence that Asian greens such as the mustards and mizuna have been cultivated for more than 2500 years. Lettuce has been enjoyed since 550 BC when it was first served to Persian kings. These early types of lettuce were probably collected from the wild and looked different than the varieties eaten today. The Assyrians and Egyptians ate lettuce and thought that the milky sap found in lettuce plants was an aphrodisiac. Paintings of a lettuce with long pointed leaves similar to today's romaine varieties have been found in Egyptian tombs.
The Romans were especially fond of a type of lettuce with erect leaves that had been found growing on the island of Cos in Greece. Today it is known as romaine, named after the place where it was popular, or Cos, for its place of origin. It has been grown for thousands of years and may be the oldest lettuce variety still cultivated today. The Romans also liked arugula and ate it for good luck.
Corn salad, also called mache, was originally found in Europe growing in the fields of grain, commonly referred to as cornfields. Peasants working in the fields would collect the leaves to eat. It became popular when served to the elite during the reign of Louis XIV.
In the U.S. greens have been served on dinner tables since the early settlers arrived from Europe. General George Washington recommended that his soldiers eat them as "they are very conducive to health, and tend to prevent the scurvy." A member of Washington's troops was sent out every day to gather the greens growing around their camp and distributed them among the soldiers. President Thomas Jefferson, an avid horticulturist, grew a variety of greens at Monticello, including a selection of lettuces, along with endive, cress, spinach, corn salad and others.