Apple scab is one of the most prevalent apple diseases in Missouri. This fungal disease, caused by Venturia inaequalis, causes olive green to brown lesions on apple leaves and can cause defoliation. Fruit symptoms are similar to those on the foliage, but as apples mature, lesions become corky in appearance. When scab infection occurs early in the season, it can also cause cracked or malformed fruit (Figures 1, 2).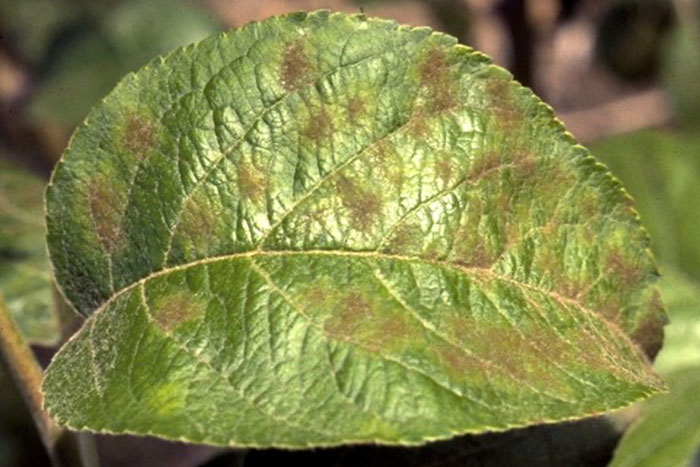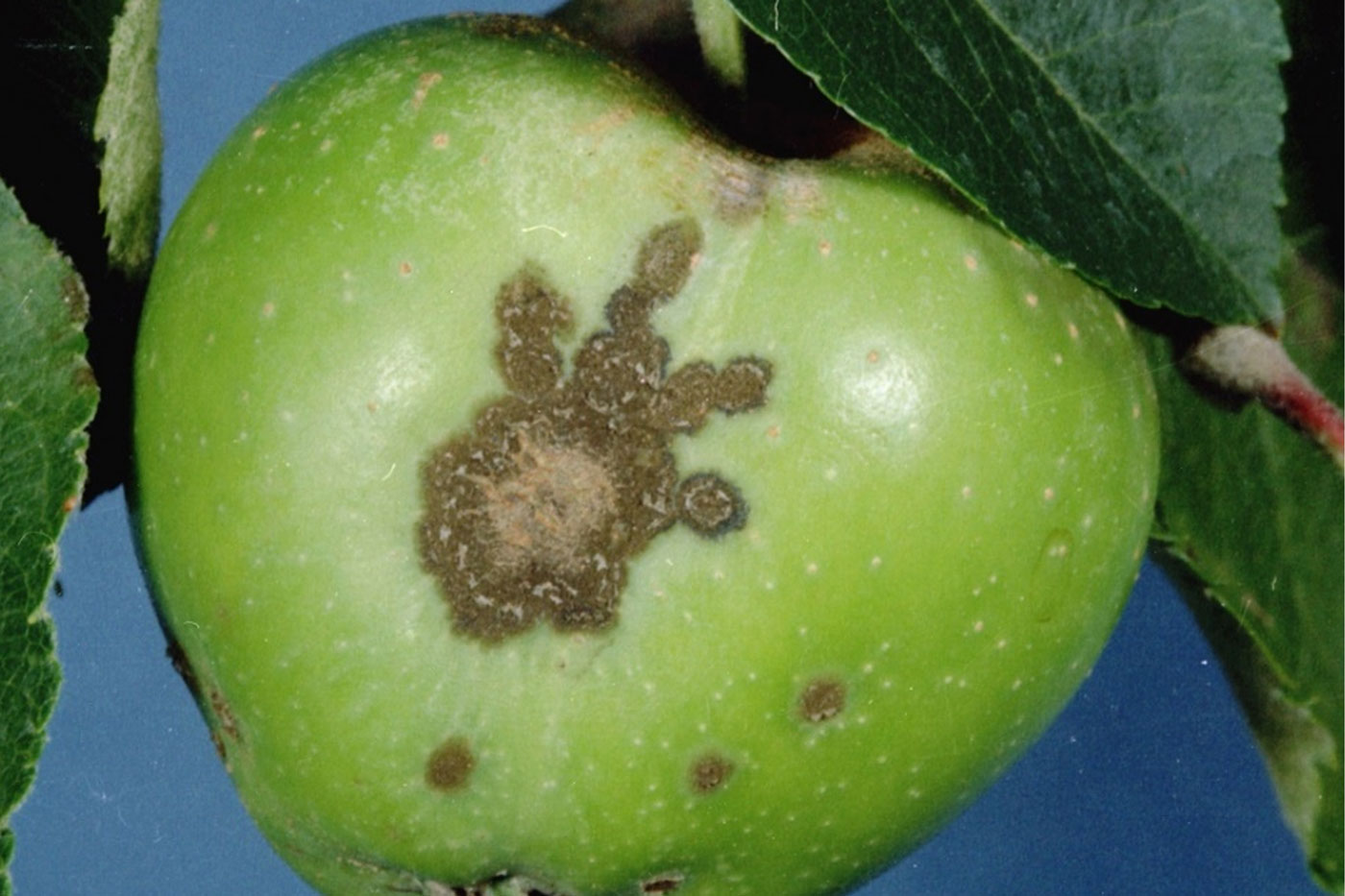 Scab infection can occur when the first green leaf tips appear in the spring at temperatures at low as 34 °F with 41 hours of leaf wetness. As the temperature rises up to 75 °F, the number of hours of foliar wetness required for infection decreases. Infection continues throughout much of the growing season when heavy dew occurs on the foliage of apple trees or with prolonged moisture from rainfall.
Planting scab-resistant cultivars is a recommended control strategy used to limit fungicide use. Many disease-resistant apple cultivars have been developed worldwide since the apple scab resistance breeding program was established at Purdue University in 1945.  However, several of the scab-resistant cultivars initially released from this breeding program ripened early in the harvest season and often produced soft fruit. However, some of the more recent introductions described below can be picked in September or later, when nighttime temperatures are generally cooler than in July or August, resulting in better fruit color and firmness.
Liberty, which was released in 1978 from New York,  is currently the most widely planted scab-resistant apple cultivar in Missouri. This cultivar produces medium-sized fruit with a mildly tart flavor. Liberty is a favored cultivar due to its resistance to apple scab, fire blight, cedar apple rust, and powdery mildew diseases.
CrimsonCrisp trees produce medium sized, dark red apples with a firm, crisp texture and a mildly acidic flavor. Its fruit ripens a few days earlier than Liberty and can be stored for at least four months in refrigeration (Table 1). This cultivar is resistant to apple scab, and somewhat susceptible to cedar apple rust and powdery mildew.
| | | | |
| --- | --- | --- | --- |
| Cultivar | Harvest Time* | Cultivar | Harvest Time* |
| CrimsonCrisp | -2 | Story | +17 |
| Crimson Gold | -2 | Nova Spy | +19 |
| Liberty |  0 | Querina | +25 |
| Bonita | +5 | Winecrisp | +27 |
| RubyRush | +7 | Enterprise | +36 |
| Galarina | +10 | Goldrush | +53 |
| Smerelda | +15 | | |
*Values represent the number of days before (-) or after (+)  the approximate first date of harvest date of Liberty. Typically, Liberty apple harvest begins on September 10 in central Missouri.
Crimson Gold is another scab-resistant cultivar that ripens at the same time as CrimsonCrisp. However, Crimson Gold apples have a peel color of reddish-orange blush with a yellow background and fine-textured flesh with a sweet-acidic flavor. This cultivar originated from the Czech Republic. Reports state that Crimson Gold performs best in warm climates.
Bonita is another cultivar released from the Czech Republic. It has a pinkish-red peel with a yellow background. Apples have a sweet-tart flavor and interesting aromatic notes. Bonita fruit can be used for fresh consumption, cooking, or baking.
RubyRush is a selection of a GoldRush x Enterprise cross that has resistance to apple scab, fire blight, and cedar apple rust. Trees grow vigorously, but can be prone to biennial bearing if young, developing fruit are not properly thinned.
Galarina is a Gala x Florina cross from France. Trees grow vigorously with an upright-spreading growth habit. This cultivar also has resistance to apple scab and powdery mildew. Apples are small to medium sized, with orange-red peel and a sweet flavor, resembling Gala.
Smeralda is a 2011 release from Italy. Trees have a compact growth habit and produce tart green apples, resembling Granny Smith. However, the harvest period for Smeralda begins in late September in Missouri.
Story originates from France. Trees are scab-resistant, but are susceptible to powdery mildew disease. The red-blushed fruit are very sweet, with low acidity.
Nova Spy is a scab-resistant cultivar introduced by the Nova Scotia Research Station. Apples of this cultivar have dark red peel with very firm flesh, resembling Northern Spy. However, others report that Nova Spy apples have a more complex flavor than Northern Spy, which is favored for cider.
Querina is another introduction from France with Jonathan parentage. Trees are scab-resistant, but are susceptible to cedar apple rust. The dark red, medium-sized fruit have a sweet-tart flavor and ripen in October.
Winecrisp is a cultivar released from the University of Illinois. Trees are resistant to apple scab and fire blight, but are susceptible to cedar apple rust. The apple peel is dark red but can have a dull, rough surface. Fruit have a sweet-tart, spicy flavor that is enhanced by refrigeration.
Enterprise is an older, but reliable cultivar that ripens in late October. It is immune to scab, resistant to fire blight and cedar apple rust, and moderately resistant to mildew. The fruit are medium to large in size with tart flesh, but the red peel tends to be thick.
Goldrush is another older cultivar that is immune to apple scab and moderately resistant to powdery mildew and fire blight, but is susceptible to cedar apple rust. The fruit ripens late in the season after Enterprise. It has medium to large yellow fruit with a sweet-acidic flavor that tends to mellow when cold-stored.