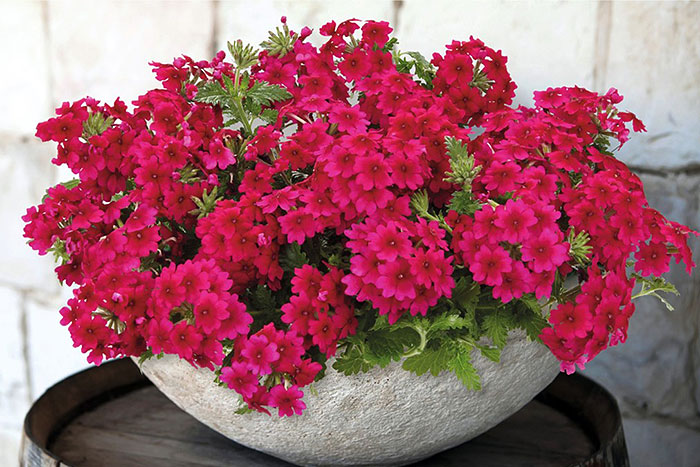 Many plants that are an everyday part of our life today were first used by humans for their medicinal properties. Such is the case with verbena, which was chosen by the National Garden Bureau as its annual of the year. Although its medicinal value is questionable, verbena today is an attractive landscape flower that possess the virtues of heat tolerance and a long bloom season. The latter traits make verbena a good choice for Midwestern gardens.
The ancient Egyptians, Greeks and Romans considered verbena (a.k.a. vervain) to be a sacred plant and used it in rituals. In addition to adorning their alters with it, they used the plant to treat a variety of ailments including headache, dysmenorrhea, jaundice, gout and kidney stones. Interest in verbena as an herbal remedy still exists, although there is little evidence to support its efficacy.
The genus Verbena is a member of the Verbenaceae plant family and contains about 150 species of annual and perennial herbaceous or semi-woody flowering plants. Many of them native to the Americas and Asia. The genus is characterized plants with lanceolate, finely-toothed leaves which often are hairy. Verbenas bear compound flowers. Individual florets are small, somewhat tubular, with five petals, and borne on terminal congested spikes up to two inches in width.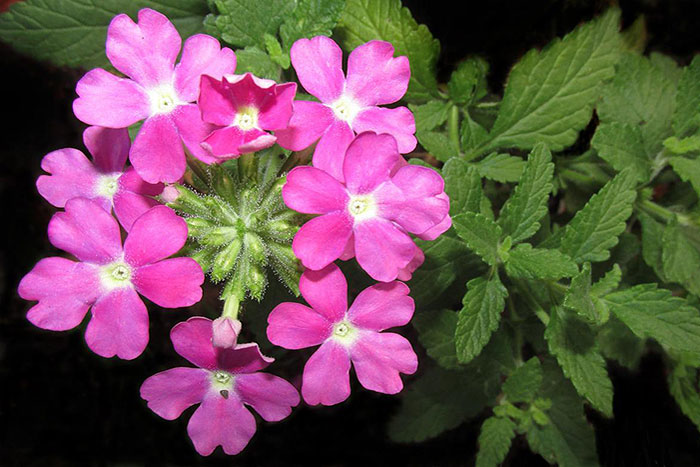 Verbenas come in varied types and growth habits, including upright and tall, as well as mounded and trailing. There both annual and perennial forms of verbena. Annual verbena produced from seeds lack the heat tolerance of the perennial types (many of which are used as annuals) which withstand the hot, dry conditions typical of the Midwest.
Most verbenas on the market today are hybrids between species growing in the wild and carry the scientific name Veberna x hybrida. These hybrid varieties generally have larger flowers, brighter and more saturated colors, and larger, more weather-tolerant leaves than their species relatives. They are also bred to be more heat, water-stress, and disease tolerant (especially powdery mildew). Hybrid cultivars are often available in a series (e.g., Superbena®) that includes verbenas with similar characteristics and in different colors.
Verbena series and varieties
Aztec Series has big clusters of vibrant flowers that provide an eye-catching display in containers, beds, and hanging baskets. Free-flowering through heat and humidity on a mounding trailing plant.
Beats™ Series is a fun, new compact size of verbena. Purple+White (a 2022 AAS winner) is a bicolor bloomer that is a great option for small patio pots and tabletop bowls as it will keep its eye-catching mound of color all summer long.


Cake Pops™ is fun and functional. These verbenas have a cute globular flower shape and will not flush. Cake Pops are available in two pleasing soft colors: Pink and Purple.
Empress Series includes both trailing and semi-trailing types of verbenas with eye-catching flower colors that stay a compact 8-10 inches tall but can spread up to 18 inches wide.
EnduraScape™ Pink Bicolor is a 2017 All-America Selections (AAS) winner. This vigorous and spreading, long-flowering plant can be considered a hardy annual (zone 7) since it thrives in the heat and can take some chilling temperatures as well.


Firehouse™ Purple Fizz is a top performer at many flower trials. This medium-vigor purple and white bicolor verbena has a beautiful mounded habit perfect for hanging baskets and landscapes. This variety, and the others in the Firehouse series, have superior powdery mildew tolerance and prolonged summer flowering.
Lanai Series has distinct color patterns that remain strong and stable (and powdery mildew resistant) throughout the growing season. Lanais come in three types: regular, compact, and upright.
Obsession Series is known for bold colors and a twister pattern and are one of the few verbenas still available from seed.
Superbena® Series boasts exceptional branching on a tidy, manageable growth habit. Tough as nails, they will continue blooming late through the summer. New to the market in this series is Imperial Blue™ which boasts an attractive and truly unique blue color on large flowers.


Tapien® Series verbenas are fine-leaved and known for their spreading habit, good cold and heat tolerance, and mildew resistance. Tapien verbenas make excellent ground covers plant and are constantly in bloom.
Temari® Series are trailing, broad-leaved verbenas, which produce vigorous branches that quickly form mounds of color via large bold blooms.
Tuscany, from seed, has an upright habit perfect for small or medium-sized containers. Big blooms and sunny colors add a bright interest to the garden.


Twister Series is popular because of its unique tricolor blooms and long-flowering periods.
While verbena seed is available, the majority of the newer varieties that have the desirable traits are vegetatively propagated and can be found as young plants at your local garden retailer in the spring. Seed-propagated verbena of note include 'Summer Blaze' with vivid red flowers that won the coveted AAS award several years ago.
Verbena looks their best when their soil is kept moist, but not wet as they do not like soggy feet. If the growing medium dries down too much it can cause flushing. Flushing is commonly known as cycling out of color where the plant loses blooms but remains green and leafy.
Verbena plants should be placed in sunny locations, aiming for six or more hours of direct light. Most species perform well in the ground or landscape. They can also be displayed in hanging baskets and patio containers. For the compact-growing verbena, those work best in pots and do not have the root vigor for garden bed applications. For prolonged flowering, deadhead verbena by cutting or pulling off spent flower heads.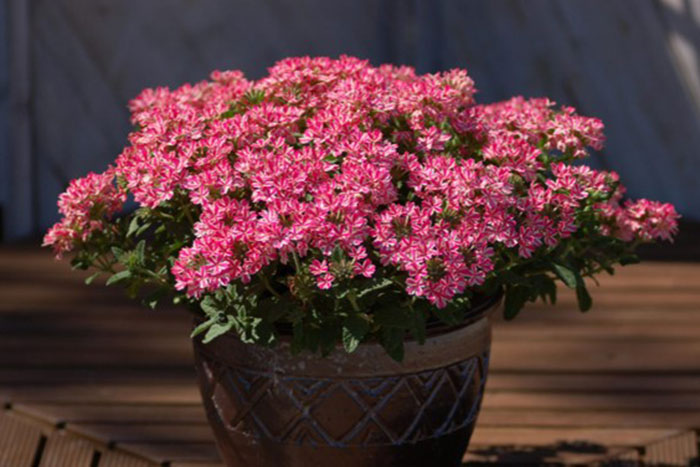 Powdery mildew is an unfortunate foliar disease on some verbena. The best prevention is to look for newer varieties that have genetic resistance. Alternatively, attempting to keep verbena foliage as dry as possible and applying a fungicide labelled for powdery mildew can help to keep the disease in check. Early intervention is important, since this disease can spread quickly. The fungus blocks sunlight from striking the plant's leaves, rendering them unable to produce food, which will ultimately cause the plant to die.
Gardening with verbenas can elevate your landscape design and add texture and color to your patio containers. You'll appreciate their colorful branches and how well they play with other flowers in your garden. Pollinators love verbena. Hummingbirds, butterflies, and moths are all frequent visitors to their flowers. Bees of all types love verbena, too.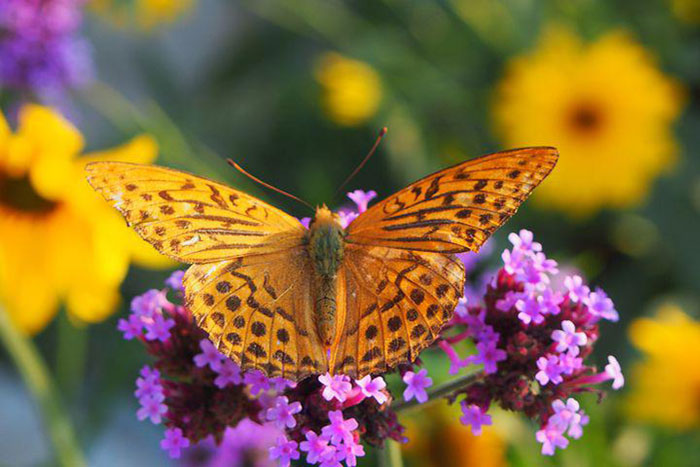 Credit: Adapted from an article by the National Garden Bureau.