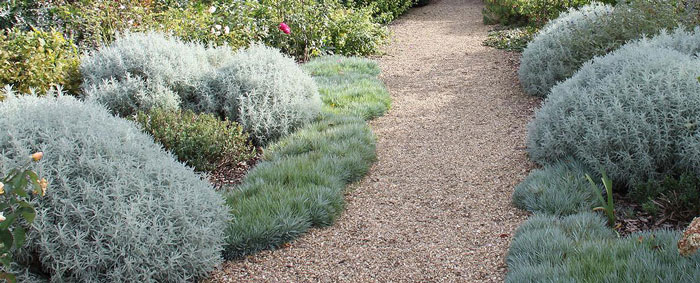 While garden plants might not be able to reduce air temperatures significantly, they can help us feel a bit cooler on a hot summer day. Scientists have proven that different colors affect the human brain in different ways. For example, red tends to have a more stimulating affect whereas blue is more calming. In terms of garden design, the use of plants with gray or silver foliage can provide an area of "cool illusion" in the home landscape. Plants with common names such as "Snow in Summer" and "Arctic Summer" substantiate the feeling of coolness they visually impart.
Gray plants in the garden have become more popular in recent years, thanks in part to the desire to curtail water usage. Most gray plant grow best in full sun in soil with excellent drainage. Many plants with gray foliage are native to areas with a Mediterranean climate. Thus, they are well-adapted to hot, fairly dry weather and low soil fertility. Some gray-leaved plants are annuals while others are slightly tender perennials that benefit from some winter protection. There also are plenty of hardy gray plants for landscape use.
The gray (silver) appearance of these plants is due to tiny hairs (trichomes) on their leaves. These leaf appendages reflect the sun's rays and keep the leaf from becoming as hot as a green or darkly colored leaf. The tiny hairs also reduce moisture loss from the leaves they occupy by forming "windbreaks" that retard water loss from open stomata. Thus, gray foliaged plants are frequently associated with "water wise" gardening.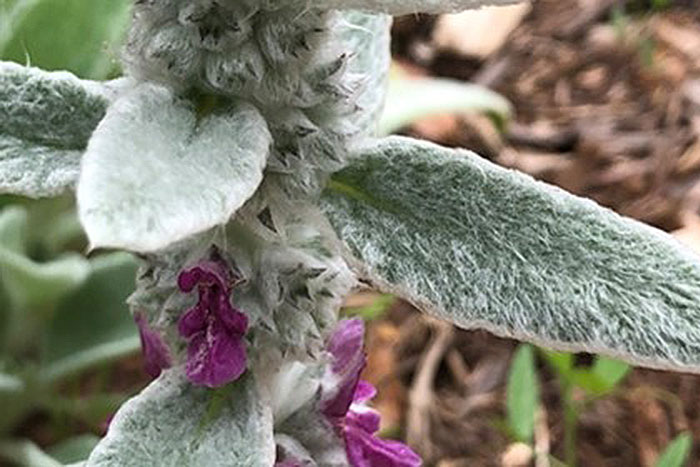 Not all gray plants have trichomes that give them their gray appearance. For example, dianthus and other members of the carnation family have a grayish waxy covering on their that provides the "gray illusion."
Gray gardens are not totally gray, since many plants in the garden flower in a wide array of colors. Some gardeners prefer to clip off the flowers so they do not detract from the gray or silver leaves. On the other hand, gray foliage blends well with many "cooling" summer colors such as lavender, blue, mauve, pink or white. A rock garden of gray plants also can be very subtle as the plants blend with the colors of the rocks. The latter also helps to provide excellent drainage which is so important to many of the gray plants.
The most widely planted gray annual most likely is dusty miller (Senecio cineraria) which is prized for its highly dissected, pubescent leaves. The leaves of this herbaceous species are covered with fine matted hairs, giving them a felted or woolly, silver-to-white appearance. Dusty miller is both heat and drought tolerant and does best in full sun. It will it become leggy when grown in shade. It combines well with other annuals, especially those that bloom in shades of pink, magenta, or violet. Relatively pest-free, it also usually is avoided by deer. There are numerous named cultivars of dusty miller with 'Silver Dust' being one of the most popular.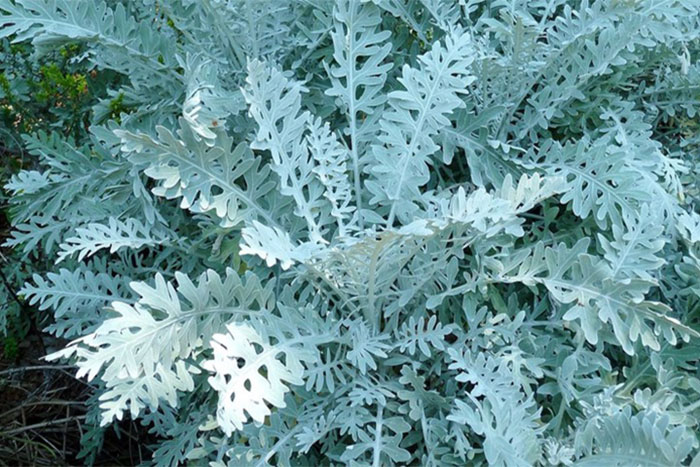 There are more gray plants that are perennial than annual in nature. Snow-in-summer (Cerastium tomentosum) is a good example. It is an excellent gray groundcover which produces small white flowers in late spring. Although it can tolerate light shade, it develops more fully in full sun locations. Snow-in-summer is a plant that tolerates our climate quite well. 'Arctic Summer' and 'Silver Lining' are two named cultivars of this species, both having silver-white leaves. Snow-in-summer is a close relative of mullen (Verbascum thapsus), a common wildflower in Missouri often seen along roadsides or in neglected fields easily recognized by its large, silver-gray leaves.
Lamb's ear (Stachys byzantine) is another low-growing, silvery-gray plant that can be grown as a as a groundcover or used as an accent plant in the perennial border. True to its common name, its leaves resemble the ears of a young sheep both from the standpoint of size and surface appearance. Evergreen in warmer climates, this member of the mint family produces small purple flowers that normally are removed to enhance the appearance of the soft, velvety, silver-gray foliage. This species is considered deer resistant and moderately drought tolerant.
Among the best of the silver and gray leaved perennials for our Missouri gardens are the artemisias. The artemisia familiar to most gardeners is silver mound (Artemisia schmidtiana 'Silver Mound'). Commonly know by its cultivar name, silver mound is a small, herbaceous perennial with a spreading growth habit and highly dissected, aromatic leaves. Growing to a height of about 12 inches, it prefers a full sun to partial sun exposure in moist, well-drained soil. Excessive soil fertility results in vertical growth in the center of the plant that becomes unattractive by mid-Summer. Silver mound is an excellent rock garden plant or can be used in mass, as an edger or a focal point plant in a perennial border. 'Silver Queen' and 'Silver King' are two other popular cultivars of (A. schmidtiana).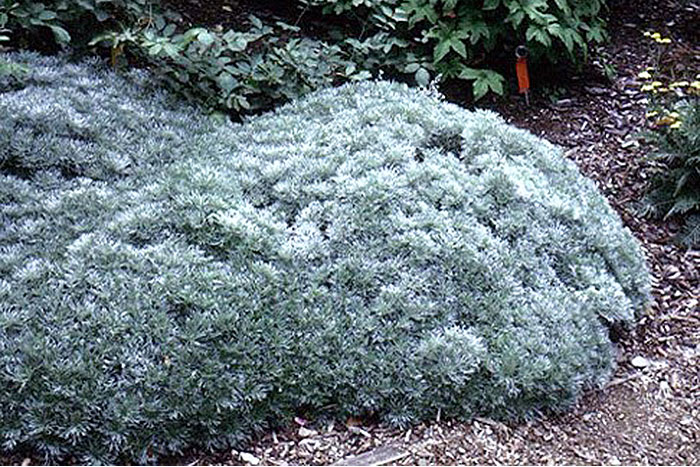 A more perilous member of this genus is Artemisia absinthium. Commonly called "wormwood," this plant with gray foliage has been used in herbal medicine for thousands of years for a myriad of conditions including intestinal parasites. Its "active ingredient" is a volatile compound called thujone. Because of the toxicity of thujone, wormwood recently was placed on the FDA's list of unsafe herbs. Although the plant is attractive, it probably is best not to use it in a landscape frequented by children.
The gardener with shade may also develop a gray or silver garden. Members of the genus Lamium are a group of plants suitable for use in the shade or, given adequate water, semi-shade. Lamium maculatum 'Beacon Silver' is a popular cultivar for this type of use. The shade garden may also include gray or bluish-gray hostas such as Hosta sieboldiana 'Gray Cole' or 'Elegans' as well as other shade-loving plants with silver-gray leaves such as Brunnera macrophylla 'Jack Frost'. Variegated forms of hosta may also be used to add to the dramatic effect of these plants in a shady setting. Even ferns can add a silvery illusion. One of the most dramatic for this purpose is Japanese painted fern (Athyrium niponicum) whose fronds appear to be painted with silver.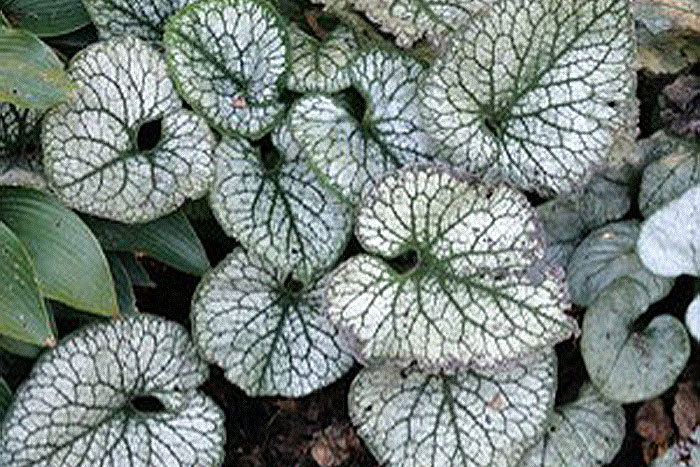 Summer garden tours popular at this time of the year or visits to the gardens of friends may give some interesting ideas for developing a gray garden, even though may only have scattered specimens.