During September, buckeyes, which are large, shiny brown seeds, can be found underneath Aesculus trees. According to legend, carrying a pocketful of buckeyes brings good luck. Early Native Americans called these seeds buckeyes for their resemblance to the eyes of male deer, known as bucks. Avid bow hunters are also searching for dark brown buck eyes during this hunting season but not to put into their pockets for good luck.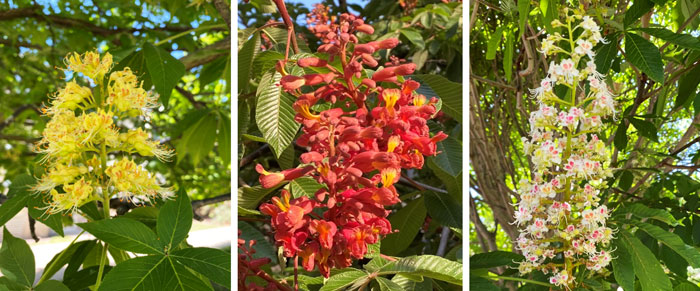 There are several species of buckeye that can be grown in full sun to part shade in Missouri. Ohio buckeye (Aesculus glabra) is a large tree, reaching 20 to 40 feet tall at maturity. Greenish to yellow-colored flowers with long white filaments are borne along a 4 to 7-inch-long spike in late April to early May (Figure 1). The dark green leaves are palmately compound, typically in groups of five leaflets. One to two glossy seeds are enclosed in a light brown leathery husk, which is covered in warty swellings with short prickles (Figure 2). In the fall, leaves turn yellow and tend to drop early.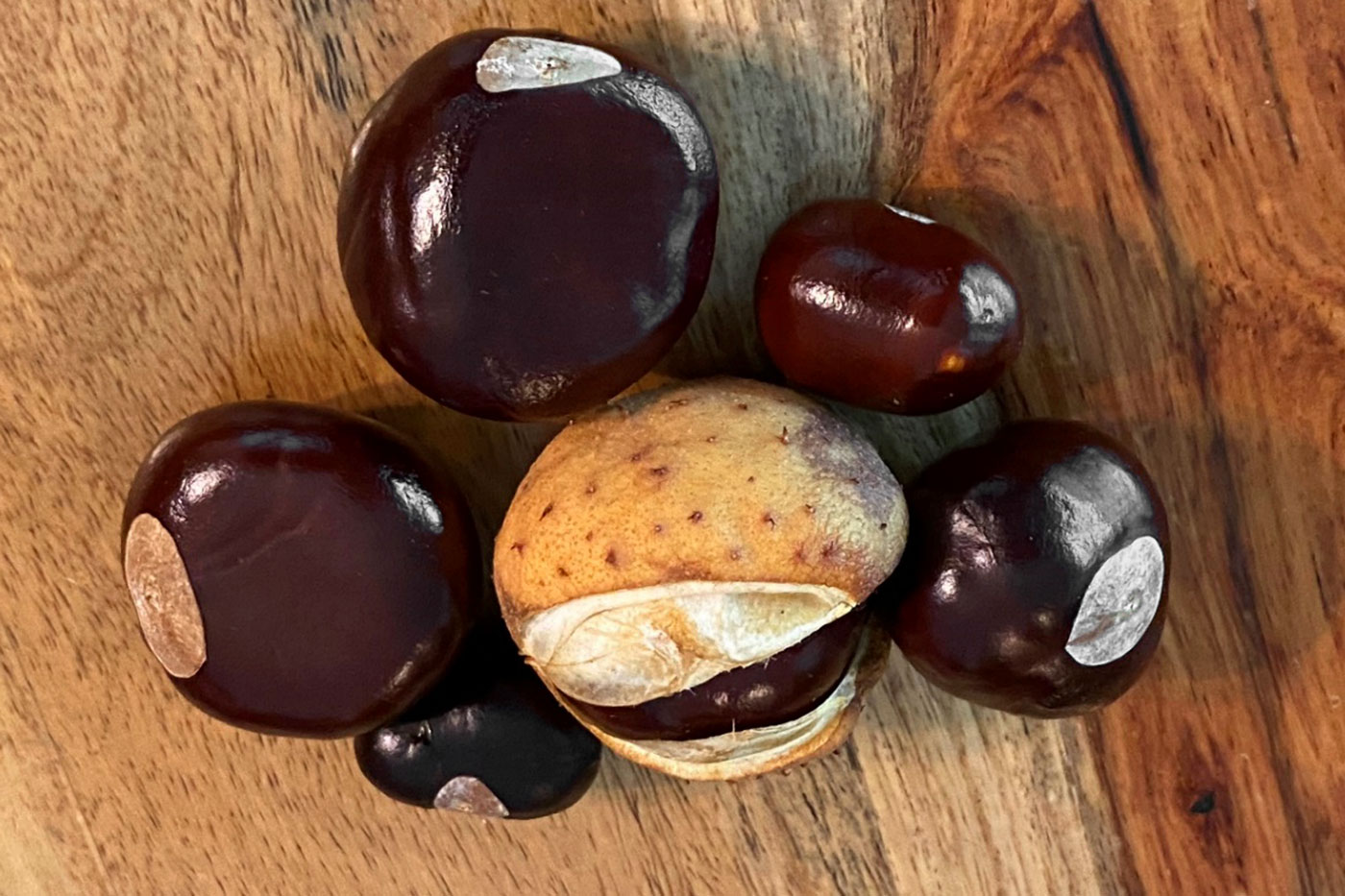 Yellow buckeye (Aesculus flava) trees are similar to Ohio buckeye trees, except for their taller height at maturity (50 to 70 feet), yellow flowers, and larger fruits that have a smooth green husk. Yellow buckeye trees also lack the fetid odor of Ohio buckeye trees.
Red buckeye (Aesculus pavia) is a small tree or shrub, reaching 10 to 20 feet tall at maturity. Leaflets are arranged in groups of five. Showy red flowers are arranged along a spike up to 10 inches long and attract hummingbirds. One to three shiny buckeye seeds are enclosed within a smooth, light brown husk (Figure 3). The foliage lacks good autumn color and falls early in the season.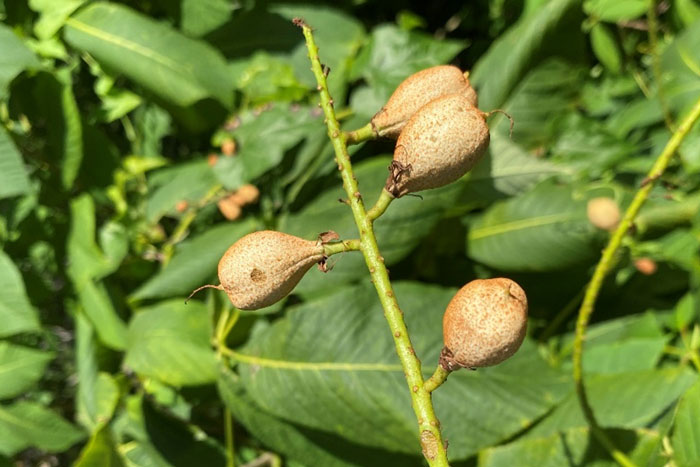 Bottlebrush buckeye (Aesculus parviflora) is a showy, summer-flowering shrub that thrives in shaded locations. At maturity, this shrub grows to 6 to 12 feet tall. Spikes of white flowers with red filaments are often up to 12 inches long. When fruit are produced, they have a smooth yellow-green husk and are generally smaller than other buckeye species with a single orangish-brown colored seed. However, bottlebrush buckeye fruit are not always produced in central and northern Missouri. In the fall, the foliage turns yellow in color.
European horsechestnut (Aesculus hippocastanum) trees, which grow to 50 to 75 feet tall, are often confused with buckeye trees. However, European horsechestnut trees usually have seven leaflets arranged palmately. White-petaled flowers with a red blotch at the base are borne on panicles up to 12 inches long. The light brown fruit are covered with long spines, which distinguish them from the Ohio buckeye fruit, which are covered with short prickles. Each European horsechestnut fruit contains one or two seeds, which mature in September (Figure 4).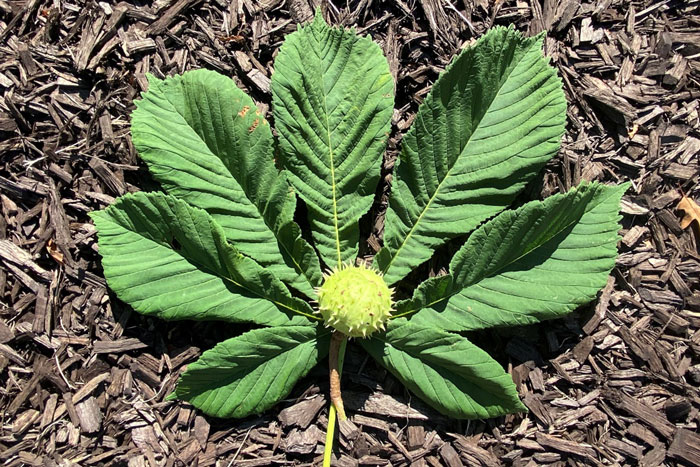 Most buckeye trees are susceptible to Guignardia leaf blotch disease. Trees are infected with this fungal pathogen during rainy weather in the spring and summer. Disease symptoms first appear as individual brown lesions with a thin yellow border on individual leaflets (Figure 5). Lesions can enlarge and eventually encompass the entire leaf. To minimize reinfection from overwintering fungal spores on the foliage, rake leaves in the fall and remove them from the site. Other fungal diseases that can become problematic include powdery mildew and anthracnose.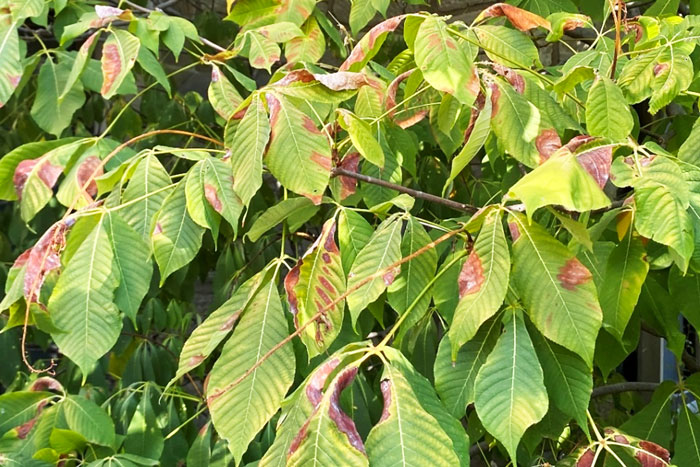 Leaf scorch occurs at leaflet margins, especially on young trees with a limited root system or those with low vigor (Figure 6). Scorch is a physiological disorder caused by drought during hot, dry weather. Deep watering during drought using a slow trickle from a garden hose will help prevent leaf scorch.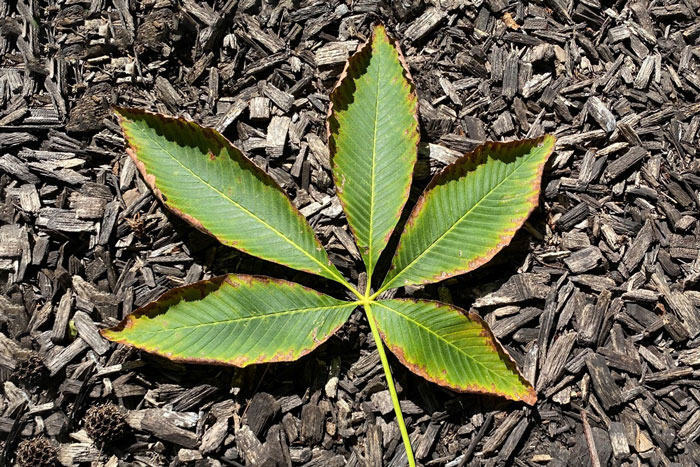 Insect pests vary by site, but buckeye lace bugs, Japanese beetles, bagworms, and borer species can feed on buckeye trees. Infestations or feeding rarely become severe and usually do not warrant the application of insecticides.
Buckeye seeds are poisonous when consumed by humans and cattle. Deer may nibble on buckeye seeds, but they are not a preferred food source. However, if you want a pocketful of buckeyes for good luck, you will likely have to scavenge these seeds before the squirrels devour them.