Update on Spotted Wing Drosophila
Published: August 1, 2014
Since late May, 2014, the Lincoln University (LU) IPM program, working in partnership with MU Extension, has been monitoring weekly the presence and abun-dance of Spotted Wing Drosophila (SWD) in 25 locations throughout Missouri. SWD is a serious new invasive pest that attacks small fruit crops, some stone fruits (cherry, nectarine, peach), high tunnel toma-toes, strawberry, and wild hosts (including pokeweed, autumn olive, crabapple, nightshade, mulberry, and wild grape). Raspberries, blackberries, blueberries, and eld- erberry are at the greatest risk. The seasonal activity of SWD (estimated by trap captures and presented as the mean number of males and females per trap per day) is shown below for three selected locations: Osceola (Southwest MO), Columbia (Central MO), and St. Peters (East-Central MO).
Osceola: One SWD trap was deployed at a cherry tree in mid June, and the first SWD captures took place on July 14th, coinciding with the ripening period of the cherry fruit. As soon as the tree was no longer fruiting, the trap was relocated onto a nearby black-berry patch. SWD captures have been increasing steadily, reaching a seasonal peak of about 12 females per trap per day. Insecticides should have been applied from the moment the first SWD were captured; how-ever, the farmer was not interested in protecting the cherries or the blackberries.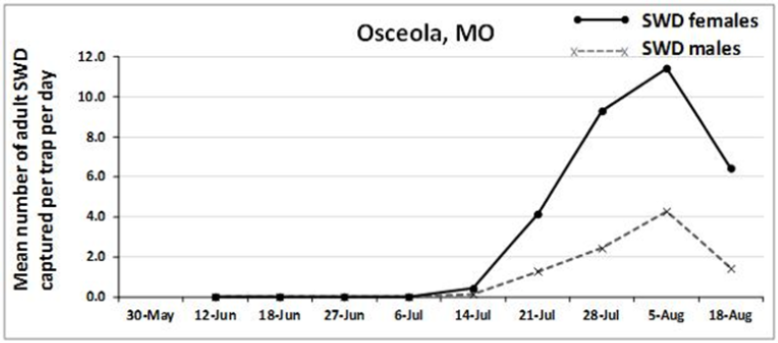 St. Peters: This SWD trap was deployed on May 27th on a Mulberry tree, and the first SWD adults were captured on June 24th, coinciding with the onset of the ripening peri-od of mulberry. A sudden increase in captures took place on July 8th (16 SWD females per trap per day), and for the first 2 weeks in August the trap has been catching an average of 6-10 SWD females per day. We believe SWD was first reproducing in Mulberry trees and once this tree no longer had fruit, then most likely flies were dis-persing onto neighboring farms, possibly causing injury to small fruits if they are grown in that area.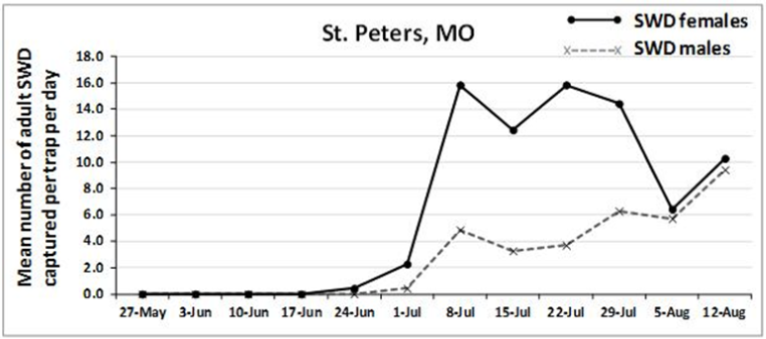 Columbia: The SWD monitoring trap was placed on June 3rd in a commercial blackberry orchard. The first SWD captures were recorded a month later, on July 8th. The farmer was advised to spray an insecticide as soon as the first fruit was changing color. It seems that the first insecticide was applied a little later than ex-pected because a fruit sampling conducted by the LU IPM program revealed infestations by SWD on the first-ripening blackberries. Numbers of SWD have been declining since July 15th to about 4 female SWD per trap per day. Nevertheless, the farmer needs to apply insecticides on a timely manner and with good coverage to achieve the best control possible.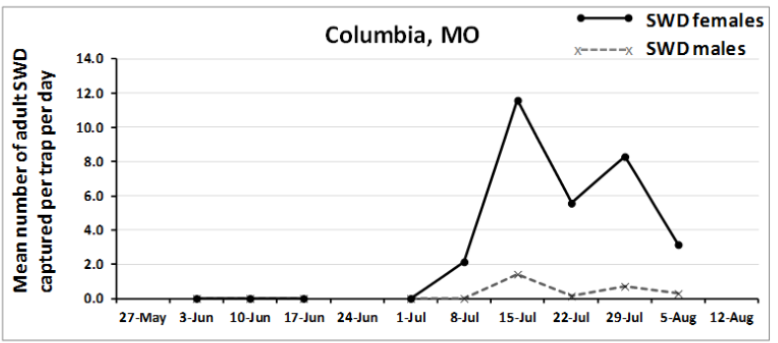 Examples provided above indicate that SWD populations are in-creasing in Missouri, so farmers who grow fall-bearing raspberries need to monitor for this pest and apply insecticides, as this is the only current way of managing this pest. Timing and good coverage are key components of an IPM program against SWD. Insecticide sprays need to be in place prior to oviposition (egg laying), and coverage needs to be thorough as the adults often hide in the denser portions of the canopy. High pressure and spray volume will be needed to reach these difficult-to-reach spots and provide thorough coverage. Even the best of the insecticides will not con-sistently last more than 7 days so, at a minimum, weekly applica-tions are needed. Producers must rotate among insecticides with different modes of action to prevent/delay resistance.