New insect and disease control products in 2016 Midwest Veggie Guide
Published: January 4, 2016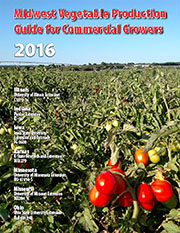 The Midwest Vegetable Production Guide for Commercial Growers is revised annually. And the 2016 mentions several new fungicide and insecticides in it. Below is a quick review on those. But first a reminder regarding Endosulfan. It is no longer labeled for use on ANY vegetable crops. If you have some still on hand, it is restricted to only two applications that Missouri growers are likely to consider- livestock ear tags or strawberry (perennial/biennial), and then only until July 31, 2016. As always, read the label for use rates/instructions. [The other options are pineapple and vegetable crops for seed]. A number of growers have mentioned that nothing works quite as well Endosulfan did in specific instances, like late season aphid outbreaks and on stink bugs. Look for a future article about replacement options.
New products:

Nematicide- Nimitz is the first new chemical registered in over 2 decades. It is not a fumigant.
Fungicide- Aprovia Top® has been added to the Cucurbit Crops and Fruiting Vegetables chapters. Labeled for powdery mildew for Cucurbits, with the same mode of action (MOA) as Luna Experience (FRAC 7 & 3). It is labeled on more diseases but hasn't been tested independently enough yet. For tomatoes, this MOA combination is new. The profile of diseases controlled is similar to Quadris or Cabrio. It is labeled on leaf mold, but hasn't been tested sufficiently yet. FRAC is the acronym for fungicide resistance action committee.
Fungicide- Orondis Ultra® has been added to the Cucurbit Crops and Fruiting Vegetables chapters. A new chemical class (FRAC U15). Has a very specific application for late blight of tomatoes and Phytophthora blight of peppers. For Cucurbits is for downy mildew and Phytophthora blight.
Fungicide- Zing® has been added to the Cucurbit Crops, Fruiting Vegetables, and Potato chapters. It is a combo of 2 active ingredients. One is the same Gavel (zoxamide- IRAC #22), and the other is chlorothalonil (in Gavel it is mancozeb). Good rating for Alternaria blight, Anthracnose and downy mildew. For tomatoes, it provides control of early blight, late blight and Septoria leaf blight.
Insecticide- Verimark®, Sivanto®, and Nealta® are new insecticides that were added for various crops.

Verimark is a systemic soil applied or by drip irrigation. It protects against chewing and sucking insects such as whiteflies, psyllids, aphids, leafminers, loopers, thrips, some beetles and Lepidopteran species (sorry, not stink or squash bugs or cucumber beetles). But it has a short preharvest interval (1 day) so may be good late season for aphids (apply via drip system). The active ingredient is Cyantraniliprole (same as Exirel) and same MOA as is Coragen (IRAC 28). IRAC is the acronym for insecticide resistance action committee.

Sivanto is a systemic insecticide in a new IRAC subgroup, 4D. Group 4 includes subgroup 'A' which has a number of systemic insecticides referred to as 'neonicitinoids' or 'neonics', such as imidacloprid (Admire was the most well-known label for vegetables). It will have similar uses as for Admire.

Nealta is a miticide newly available from the IRAC group 25.
Slug control recommendations were added to Cole Crops and Leafy Vegetables.