In Missouri, production of sweet potato by local produce growers is not enough to supply the local market. Therefore, most of the sweet potato consumed in the state is imported from southern states (Louisiana, Mississippi, and Arkansas). Missouri growers have an opportunity to increase local production and market share. This article discusses results of a study to produce on-farm sweet potato slips under low and/or high tunnels to optimize quality and timing for field planting. Early field planting extends the growing period of sweet potato that may end in higher yield. This study was supported by a Specialty Crop Block Grant (Missouri Department of Agriculture and U.S. Department of Agriculture - Agricultural Marketing Service).
Sweet potato is a perennial tropical crop but cultivated as annual in the U.S. It is sensitive to chilling temperatures (cold temperatures between 32°F and 60°F) and will die with freezing temperatures. However, production of sweet potato slips begins early in the spring under protected systems to harvest slips for field planting as soon as the soil temperature in the field reaches 65°F and the risk of freezing has passed. Therefore, a trial was set in three Missouri locations (Henry Co. Greene Co. and Oregon Co.) in Early April 2021. Pre-sprouted 'Beauregard' sweet potato "seed" G1 (storage roots of generation 1) from Louisiana State University was used. After spreading the "seed" in the ground (one layer) and covering with soil/compost (2 inches above storage roots) and green plastic mulch on top (figure 1), three protected systems and a control without protection (Op) were set. These consisted in low tunnel (LT) covered with spunbonded row cover over wire hoops (2ft tall), high tunnel (HT), and low tunnel inside a high tunnel (LTHT) (figure 2).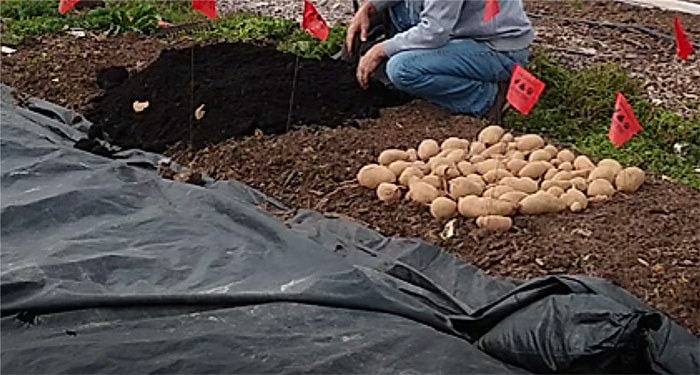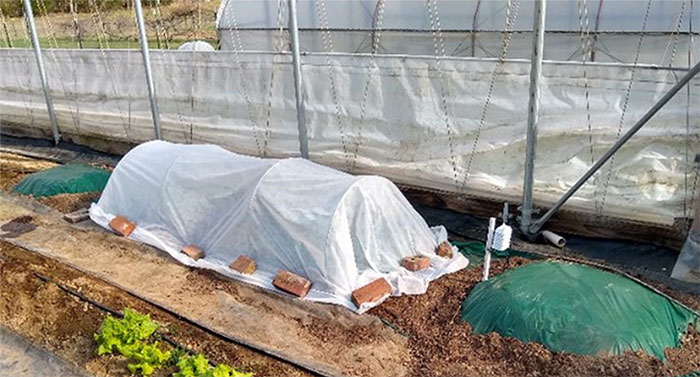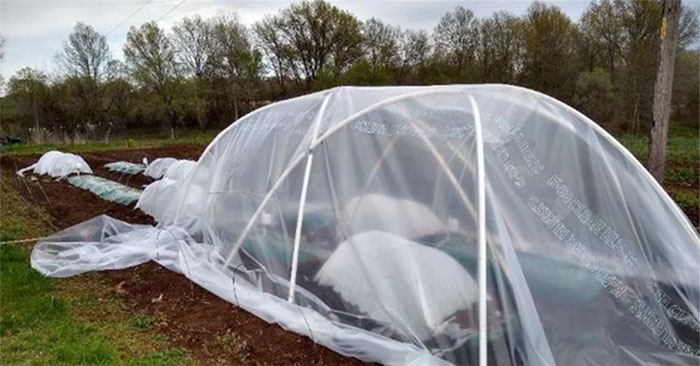 Plastic mulch was removed when slips were pushing from the ground and row covers were put back on accordingly. When slips were 12-14 inches tall, they were topped/trimmed back to 10-12 inches (figure 3) and left uncovered for another 1 week or so to toughen up before planting in the field.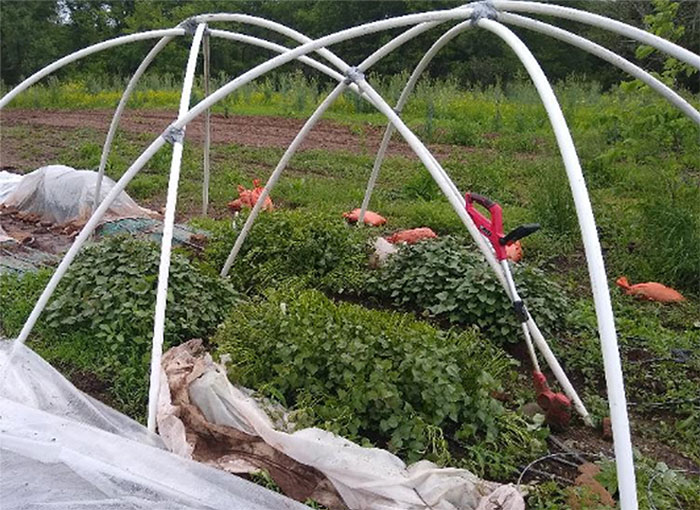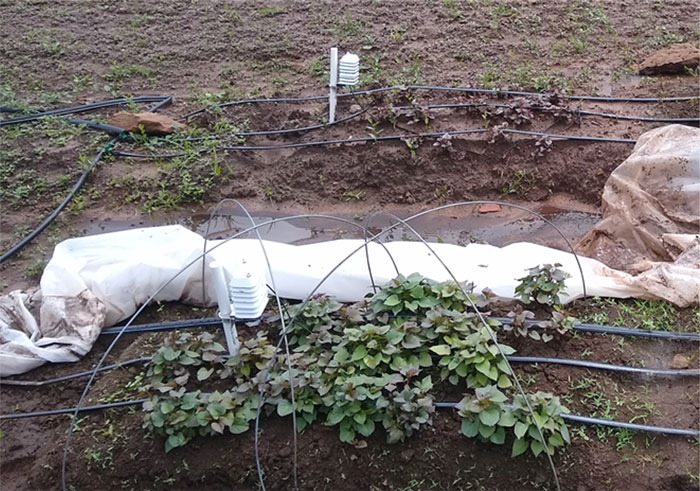 Differences in soil and air temperatures under different protected systems influenced the time of sweet potato sprout emergence from the soil and plastic mulch removal, growth rate and date of sprouts/slips trimming, and slip harvest for field planting (figure 3). In general, slips grown under a low tunnel inside a high tunnel were harvested first and planted in the field the last week of May in the three locations. Slips grown in the high tunnel without low tunnel were harvested and planted in the field a week later. Then, slips grown under low tunnels outside were harvested and planted in the field 2 to 3 weeks after the first harvest depending on location. Growth of slips in the control plot without any protection (only plastic mulch before emergence) was slow and slips harvested last to plant in the field 3 to 4 weeks after the first planting. Consequently, on-farm production of sweet potato slips under high tunnels allows growers in Missouri to plant in the field much earlier than low tunnels and uncovered systems. Slip production ranged between 40 and 80 slips/square feet or around 400 to 800 slips/bushel (40lb) of sweet potato "seed". Two additional advantages of on-farm production of sweet potato slips are: 1) the flexibility at the time of planting, that is, not having to wait for a shipment to arrive from elsewhere or slip deterioration/decay in arrived boxes when planting is delayed due to adverse weather conditions; and 2) reduced cost of planting by avoiding costly slip purchases that include shipping costs.
In summary, on-farm sweet potato slip production under protected systems in Missouri allows farmers to field planting early in the season so plants have a longer growing period, which increases yield. In addition, early planting with on-farm grown slips available at the appropriate planting time has the potential to reduce planting costs and increase gross income, which would improve the economic sustainability of the operation.