Nematodes are among the most numerous and diverse animals on the planet (and yet one of the least understood). They can be found in diverse environments, from marine to freshwater, forest to desert, mountains to valleys, cultivated fields to home gardens. Some nematode species feed on algae, bacteria, fungi, or other nematodes. These are free-living nematodes. Other nematodes are parasitic and depend on a host such as vertebrate and invertebrate animals or plants (Figure 1).
---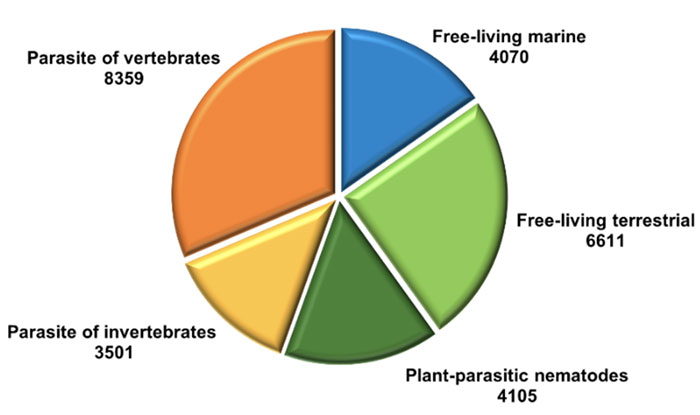 Nematodes that inhabit the soil are microscopic roundworms. The average length of a soil nematode is 1 mm, but can range from 0.1 to 12 mm depending on species and life stage. A handful of soil (perhaps from your garden) may contain thousands of nematodes from a dozen different species (Figure 2).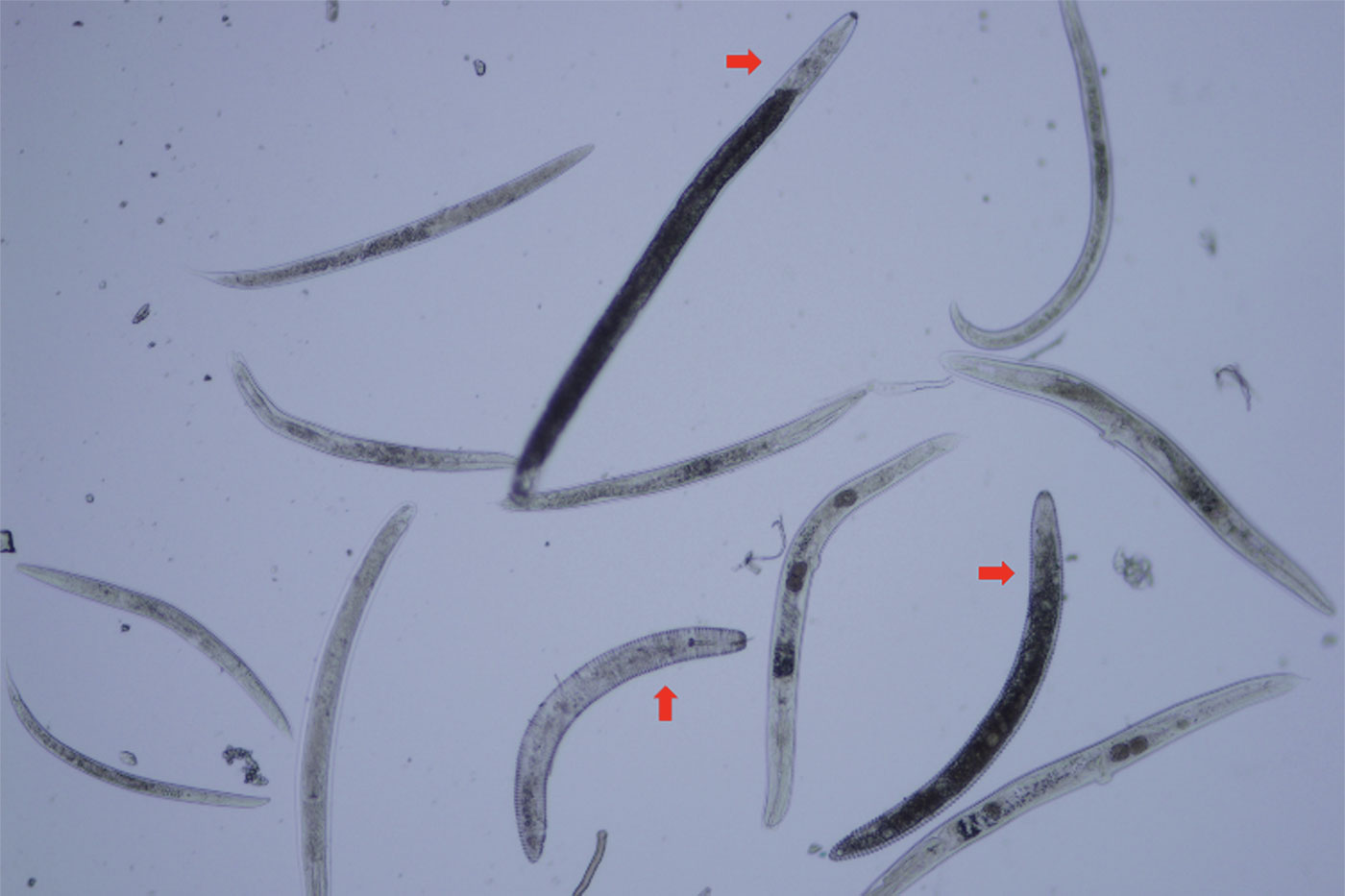 Fortunately, most soil dwelling nematodes are free-living and sometimes referred to as "beneficial" or "good" nematodes. They can help regulate microorganisms in soil, including plant pathogens, and recycle nutrients used by plants. Plant-parasitic nematodes (PPNs) are often referred to as "bad nematodes". PNNs can feed on or in plant roots. Most PPNs are soilborne and root feeders. However, some will spend only a short-period or no-period of their lives in soil and feed mostly on other plant parts including stems, leaves, flowers, or seeds.
Practically all plants are susceptible to one or more PPN species. Some PPNs have a restricted host range, while others, such as root-knot nematodes (RKNs), can parasitize thousands of plant species, including vegetables, leaves, bulbs, fruits, and ornamentals plants. Some of RKNs favorite and most common hosts in gardens are tomatoes, peppers, cucumbers, carrots, lettuce, potatoes, strawberries, and melons. This broad host range contributes to RKN being one of the most damaging pests in home gardens.
A statewide survey conducted in Missouri in 2009 reported that 44% of community gardens and 13% of home gardens tested positive for RKN. The survey also observed the spread of this nematode from southern to central and northern counties. More than a decade has passed since this survey was conducted, and it is likely RKN has spread further.
A couple dozen PPN species including ring, root-lesion, spiral, stubby root, stunt, foliar nematodes, and others that are prone to cause damage to gardens have also been reported in Missouri.
Keep your eyes open
Plants affected by nematodes can have aboveground symptoms such as reduced growth, wilting, yellowing, defoliation, and split or early senescence of fruits which are easily confused with symptoms caused by drought or nutrient deficiencies. Belowground symptoms may include necrotic (dead and rotting) lesions on roots, root galling (caused by RKNs; Figure 3), and abnormal growth of roots and tubers. Symptoms can vary depending on the plant species, nematode species, nematode population levels, and environment.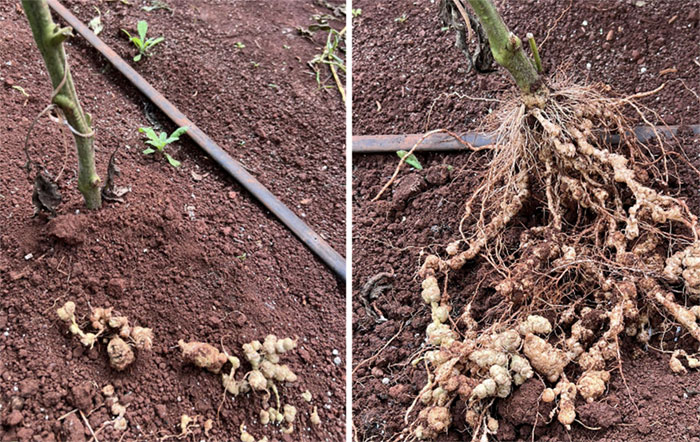 How to get rid of the bad guys?
Unfortunately, it is extremely difficult (not to say impossible) to eradicate established populations of plant-parasitic nematodes while continuing to garden (especially PPNs with a wide host range). The good news is, they can be managed. Here are some good practices to help mitigate problems caused by nematodes:
Test for nematodes: it is critical to know if bad nematodes are present (species and population) for the most effective and economical management strategy.
Select a site with no history of plant-parasitic nematodes: if not possible, find areas with low pressure and plants that are not suitable hosts for the nematodes present.
Maximize conditions for soil and plant health: optimal soil pH, fertility, structure, organic matter, and moisture will increase a plant's tolerance to nematodes.
Use nematode-free soil, growing media, seeds, and plants: only buy from a certified store and always inspect plants, including roots, for symptoms that may resemble nematode infection (better safe than sorry).
Consider early-season planting: nematodes are less active in cooler soils. Early planting (when possible) or planting cool-season crops may help reduce damage in nematode-infested gardens.
Choose resistant varieties: some tomato varieties are labeled as resistant to nematodes (Figure 4). Although it might only protect one or two species against root-knot nematodes, it is still advisable to use resistant varieties.


Clean your gardening tools: nematodes can be spread by everything that moves soil. Clean gardening tools with a 10% solution of hypochlorite (bleach) before working on another plant or site in your garden.
Consider winter tilling: this can reduce nematode populations by exposing them to harsh conditions and eliminating any living plant roots that may serve as a host for nematode reproduction.
---
For more symptoms and management information, visit: Managing Nematodes in Gardens.
The SCN Diagnostics Clinic at Mizzou provides a complete PPN identification and quantification test for a $40.00 fee. Please visit www.scndiagnostics.edu or contact the clinic by phone (573)884-9118 or e-mail scndiagnostics@missouri.edu.