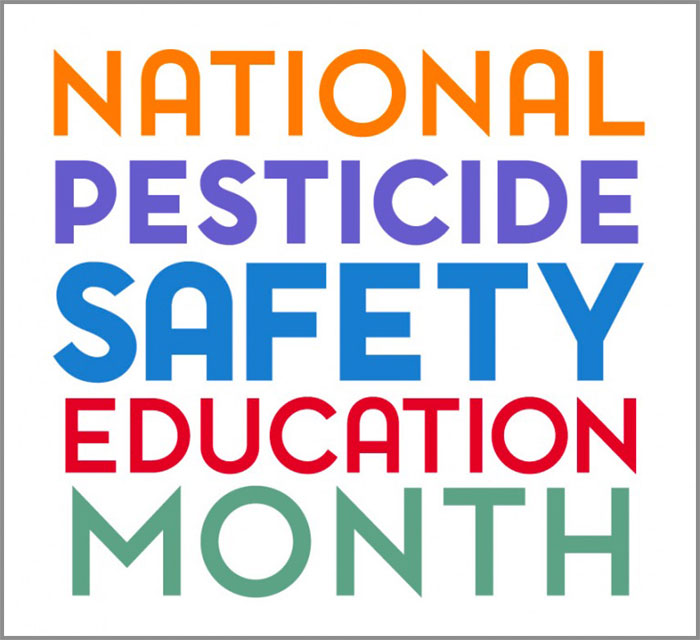 February 2023 marks the Sixth Annual National Pesticide Safety Education Month. This event was designed to "reinforce core principles of safe pesticide use with many audiences and raise awareness of and support for the land-grant university Pesticide Safety Education Programs (PSEPs)". Pesticides are a critical tool for agriculture, structural pest control, food safety, and human health. While opinions toward pesticides can sometimes be negative, the public often overlooks how important pesticides are in the production of the foods and goods they use, as well as the number of pesticides in their own homes.
Household products such as insect repellants, antimicrobials, weed killers, and disinfectants used against Covid-19 are pesticides registered with the US EPA. The hazards of organic pesticides are often underestimated. These examples illustrate the importance of pesticide education to safely use these products while protecting your household and the environment. Reading the product label every time you use a pesticide is the first step in using pesticides safely.
Additional safety tips for pesticide use on EPA's website include:
Store pesticides in their original containers with proper labels.
Store pesticides out of the reach of children and pets, preferably locked up.
Use the amount specified on the label. Using more will not be more effective and may harm you, your loved ones and the environment.
Wash hands with soap and water after using a pesticide. Wash clothes that have been in contact with pesticides immediately and separately from other items.
Don't let children and pets enter sprayed areas while they are still wet.
Keep pesticides away from food and dishes.
Understanding the safe and effective use of pesticides can help prevent problems resulting from misuse, such as damaged lawns, reduced bee populations, or human illness. Reducing misuse helps maintain pesticides as important tools in our pest control toolbox. We all have a responsibility to help educate the public to ensure a healthy, productive society.
For more information
Pesticide Environmental Stewardship https://pesticidestewardship.org/national-pesticide-safety-education-month/
US EPA https://www.epa.gov/pesticides/epa-celebrates-national-pesticide-safety-education-month#:~:text=During%20the%20month%20of%20February,in%20and%20around%20your%20home