This week, the EPA released a decision that will prevent the use of the herbicides Enlist One (2,4-D choline) and Enlist Duo (2,4-D choline + glyphosate) in five southwestern Missouri counties. These counties include Barton, Bates, Cedar, St. Clair, and Vernon (Figure 1 highlighted counties). These labeling decisions have been made by EPA primarily based on concerns surrounding the protection of endangered species that may "use corn, cotton, or soybean fields for diet and/or habitat". The registrant of these products, Corteva, has indicated that they have already completed additional studies that could address the EPA concerns and so it is possible that some county restrictions may be removed in the coming months, but it is too early to speculate.
---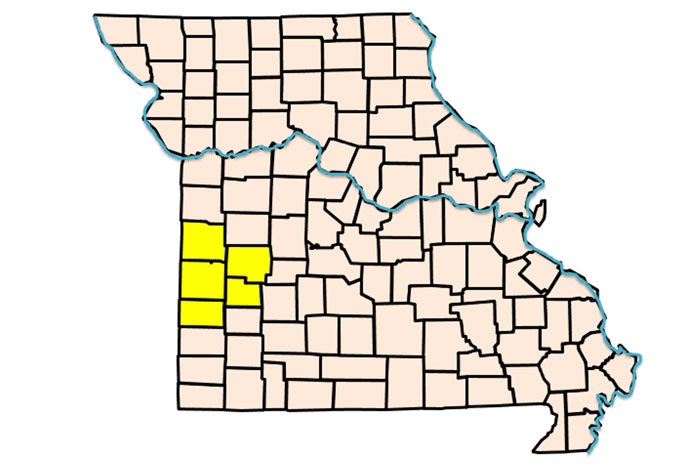 Assuming the county restrictions hold for the 2022 growing season, the obvious question being asked by growers who reside in these counties and who had already purchased Enlist soybean seed with the intention of applying the Enlist products is, "What should I plan on doing for my weed management program now?" For growers who find themselves in this situation and have glyphosate-resistant waterhemp (which applies to most of the fields in our state), I would encourage them to use an effective pre-emergence residual herbicide that contains multiple modes of action at or near planting, and plan on coming back post-emergence with a timely application of a glufosinate product. At the time of this post-emergence glufosinate application, I would also suggest another group 15 residual herbicide (products that contain S-metolachor, acetochor, pyroxasulfone, etc.) which is a program that is referred to as an overlapping or layered residual approach. Overall, this is a program that is still effective on the majority of waterhemp populations in our state. If you are certain that you do not have glyphosate resistance in your waterhemp, a similar approach that includes glyphosate instead of the glufosinate can be followed.
For the remainder of the state where these products will be allowed (non-highlighted counties in Figure 1), it should also be noted that there will be additional new label restrictions that are directed towards reducing off-target movement and protecting endangered species. Some of the more notable of these include: no applications permitted when rainfall is expected within 48 hours or when soils are fully saturated; no irrigation that could produce runoff within 48 hours after application; requirement of a downwind 30-foot buffer; and no applications permitted after soybean crops are in bloom. All applicators should check the modified labels to make sure they comply with these new requirements prior to use in the 2022 growing season.