MU Plant Diagnostic Clinic reopened in February 1st, 2021. From February to December 2021, the clinic has received 276 physical samples and 61 digital samples. Among all the samples, plant disease diagnosis accounted for the majority of the total samples while five samples are for insect identification services and two samples for weed identification (Figure 1). The physical samples submitted to the clinic were categorized based on the plant types (Figure 2). Ornamentals are the largest sample category with 99, followed by field crops (72) and vegetables (39). Soybean (22) and corn (20) compose the two major crop categories, followed by hemp (13) and wheat (8) (Figure 3).
---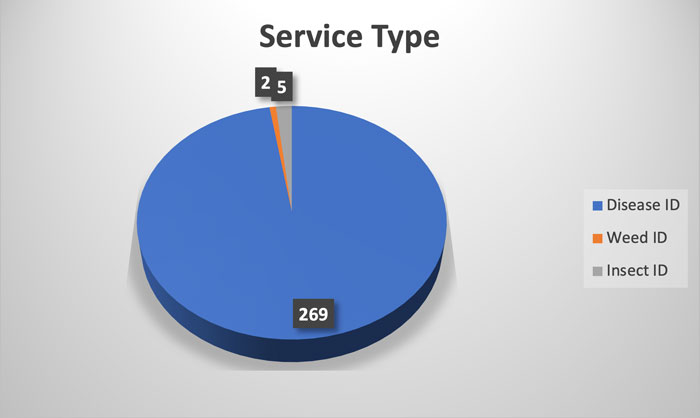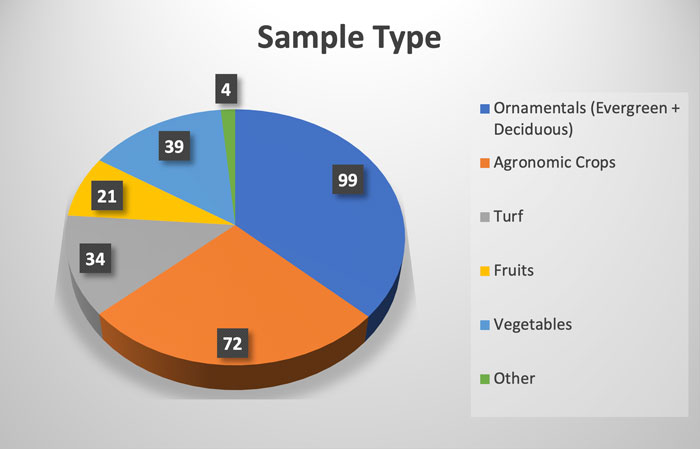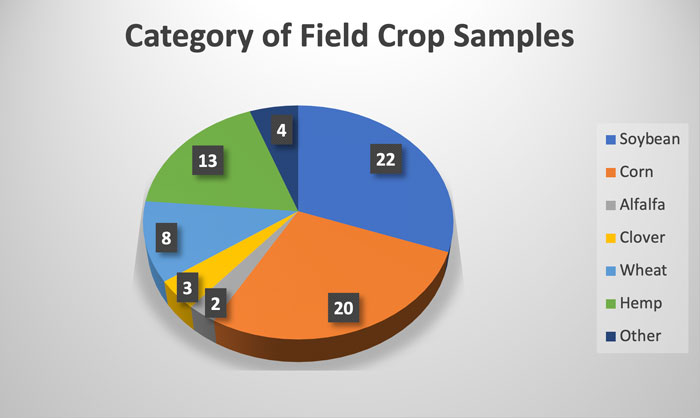 Crown and root rot diseases caused by Phytophthora spp. and Pythium spp. were prevalent early in the season due to the heavy rainfall as well as the late frost weather in the spring. We have reported 13 cases of Phytophthora root rot diseases on soybean samples and 5 cases of Pythium crown and root rot on corn, primarily due to high moisture level in the soil. The prolonged cool and wet condition also triggered many foliar diseases or head blight diseases, such as wheat leaf rust, wheat scab, wheat blotch, soybean frogeyes leaf spot, septoria leaf spot, corn gray leaf spot and southern rust (Table 1). Tar spot disease is a relatively new disease to Missouri and has been confirmed in 8 counties in the northeast of the state this year, showing a tendency to move south and west. We also confirmed purple see stain and leaf blight disease caused by Cercospora kikuchii from 8 soybean samples. This disease can cause severe leaf dropping and premature death, thus it certainly is a disease to watch out in the new growing season.
Disease
Pathogen/Pests
# of samples
Soybean
Anthracnose stem blight
Colletotrichum spp.
9
Herbicide injury
Abiotic disorder
2
Charcoal rot
Macrophomina phaseolina
4
Target spot
Corynespora cassiicola
1
Pod and stem blight
Diaporthe spp.
2
Pythium root and/or crown rot
Pythium sp./spp.
1
Phytophthora root rot
Phytophthora sojae
13
Soybean frogeye leaf spot
Cercospora sojina
3
Purple seed-stain; Leaf blight
Cercospora kikuchii
8
Soybean downy mildew
Peronospora manshurica
2
Soybean brown stem rot
Phialophora gregata
1
Soybean thrips
Neohydatothrips variabilis
1
Spider mites
Family Tetranychidae
1
Unidentified agent
Unknown
2
Corn
Corn gray leaf spot
Cercospora zeae-maydis
1
High moisture
Abiotic disorder
6
Pythium root and/or crown rot
Pythium sp./spp.
5
Southern corn rust
Puccinia polysora
2
Bacterial stalk and top rot
Erwinia carotovora
1
Spider mite
Tetranychus sp./spp.
1
Physoderma brown spot
Physoderma maydis
1
Corn tar spot
Phyllachora maydis
3
Southern leaf blight
Bipolaris maydis
1
Abnormal plant growth
Abiotic disorder
1
Mold; Mildew
Trichoderma sp./spp.
2
Red root rot
Phoma terrestris
5
Wheat
Head Blight
Fusarium graminearum
5
Rhizoctonia crown and root rot
Rhizoctonia solani
1
Root rot and sharp eyespot
Rhizoctonia cerealis
1
Pythium root and/or crown rot
Pythium sp./spp.
2
Wheat blotch
Parastagonospora nodorum
2
Anthracnose
Colletotrichum graminicola
1
Fusarium root rot
Fusarium sp./spp.
1
Wheat bacterial leaf blight
Pseudomonas syringae pv. syringae
1
Environmental stress
Abiotic disorder
1
Stripe rust; Yellow rust
Puccinia striiformis var. striiformis
2
Unidentified agent
Unknown
3
Forage, Alfalfa & Clover
Cercospora leaf spot
Cercospora sp./spp.
1
Leptosphaerulina leaf spot
Leptosphaerulina sp./spp.
1
White mold (Stem rot)
Sclerotinia sclerotiorum
1
Fusarium root; Crown rot
Fusarium spp.
1
Clover rust
Uromyces trifolii
1
For appropriate diagnosis, the MU Plant Diagnostic Clinic can help you confirm if your plant has this disease. We encourage you to visit our website (https://extension.missouri.edu/programs/plant-diagnostic-clinic) and review submission guidelines before submitting your sample. If possible, you may take photos and send them to plantclinic@missouri.edu.
We just uploaded a new 4-minute video about sample submission guidelines on YouTube to help you submit your sample step by step. Please click here: https://youtu.be/XEWVT9lUflo.
For sample submission and fee payment, you can either:
1) Visit our new online submission system at https://extension.missouri.edu/services/plant-disease-sample. Fill out the submission form online using your computer or mobile device and make payment online securely with a credit card.
2) Download the submission form at https://extension.missouri.edu/programs/plant-diagnostic-clinic/sample-submission. Fill it out and send to us together with your sample and payment. Check or money order. No cash please.
Contact Information:
University of Missouri-Plant Diagnostic Clinic
28 Mumford Hall
Columbia, MO 65211
Phone: 573-882-3019
Email: plantclinic@missouri.edu
Twitter: https://twitter.com/MUplantclinic