Herbicide Shortages/Supply Chain Issues. Much has been said and written about the potential shortages of glyphosate and glufosinate that are expected in 2022. And because of that fact, I'm not going to try to add too much more to this discussion. After talking about this with growers and retailers around the state and after my (admittedly abbreviated) winter meeting season, I'm also not sure who will have a shortage of these herbicides in 2022, and who won't. I've heard everything from, "we don't have any problem getting glyphosate/glufosinate in this area" to "we will be very limited in this area". So, if you anticipate that you may be unable to source enough glyphosate or glufosinate for your needs this season, my advice is simply this; determine the best way for you to use the herbicide(s) that you do have available for the good of your overall weed management program. This means targeting your worst weeds with the herbicides that give you the best opportunity for success first, and taking every opportunity to make the most out of the herbicide that you intend to spray. In other words, proper herbicide timing will be as important this year as ever (to eliminate the need for any potential re-sprays), as well as correct use of nozzles, adjuvants, GPA, etc.
In corn, we still have a variety of effective post-emergence weed management options and herbicide groups that do not involve glyphosate or glufosinate. These would include the group 4 (2,4-D, dicamba, etc.), group 27 (Callisto, Impact, Laudis, Shieldex, etc.), and group 2 (Resolve, Steadfast, etc.) herbicides. In other words, you can probably "get by" easiest in corn without glyphosate or glufosinate.
In soybean, we must rely on effective residual herbicides pre- and post-emergence as much as possible. Because of our problems with resistant waterhemp and Palmer amaranth, this is really something I hope that our farmers are already familiar with and practicing, regardless of any potential herbicide shortages. Also because of our problems with these resistant weed species, soybean is a crop where a potential shortage of glufosinate might hurt the most. If used correctly, glufosinate is still a herbicide that works on the pigweed species in most Missouri soybean fields. With that in mind, I would save all the glufosinate you have for post-emergence use in Enlist soybean (preferably with Enlist One), or for post-emergence use in Liberty Link, Liberty Link GT27, or XtendFlex soybean.
If you intend to utilize herbicides for termination of your cover crops, our data indicates that glyphosate or glyphosate mixtures are most often the most effective and most consistent option (see figure as well as previous articles on this topic). In my opinion, if I had to "save" glyphosate for use this season, I'd want to try to keep some of it for cover crop termination. But if you cannot find glyphosate and have to switch to another non-selective herbicide, our data indicates that tank mixes that include paraquat (Gramoxone) may be the next best alternative. Another option for the control of grass cover crops would be the application of a group 1 herbicide like clethodim (Select Max, Arrow, etc.) or others, but obviously these herbicides would not provide any control of legume or broadleaf weed species.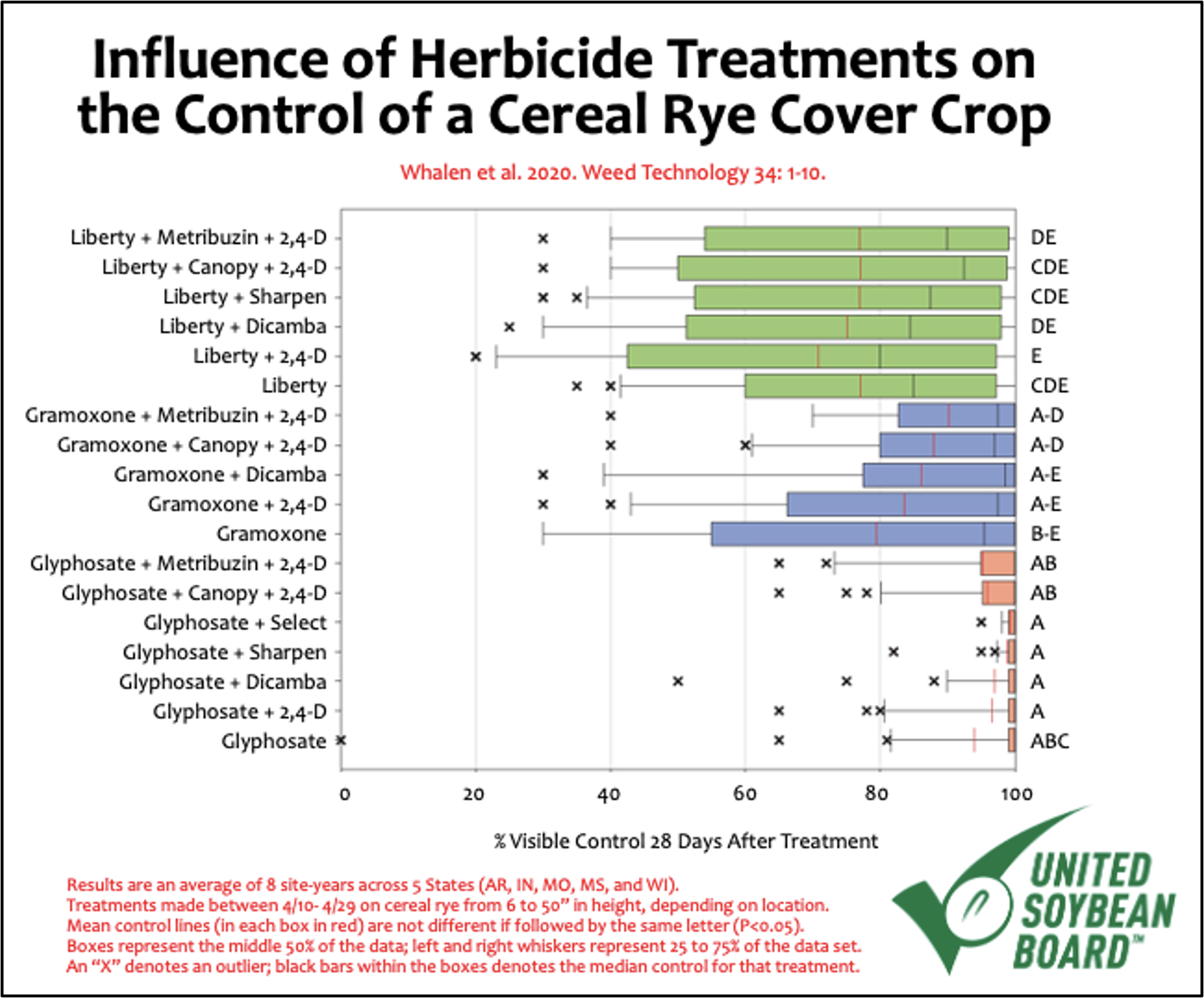 Off target movement of dicamba is still occurring across a wide geography. How could I go through a newsletter article (or a season) without mentioning dicamba? I think pretty much everyone is well acquainted with all these issues by now but if you're not, my first sentence in this paragraph pretty much says it all. As much as I wish it weren't the case, unfortunately the issues with off-target movement of dicamba have not ended and each season we have continued to see dicamba move off-target and injure neighboring soybean fields and other sensitive plant species. While there are many reasons for this, our research has shown that there is quite a bit of secondary movement that occurs after the sprayer has left the field, and it is this secondary movement that is outside of the applicator's control. For growers who intend to plant XtendFlex soybean and spray one of the approved dicamba products this season, please pay close attention to the label requirements and environmental conditions that are expected prior to and after the application has been made. If conditions are not optimum for a dicamba application, it is important to note that post-emergence applications of glufosinate are labeled for use in XtendFlex soybean, and as I mentioned previously, to my knowledge this herbicide still works on the majority of pigweed populations in the state.
Too much reliance on herbicides alone. Herbicide resistance is still our biggest weed management challenge in agriculture. Waterhemp is now resistant to seven different herbicide site of action groups (2, 4, 5, 9, 14, 15, and 27) and Palmer amaranth is resistant to nine (2, 3, 4, 5, 9, 10, 14, 15, 27). The simple fact of the matter is, there aren't that many herbicide options left!
As a case in point, this past winter Dr. Larry Steckel in Tennessee and Dr. Aaron Hager in Illinois confirmed the presence of dicamba-resistant waterhemp populations in their respective states. Although I am not aware of any "official" dicamba-resistant populations in Missouri, we have observed a high degree of variability in the control of Missouri waterhemp populations with this herbicide in our screening efforts over the past several seasons.
All of this is just simply to say, our growers as well as our entire industry needs to be more open to an integrated approach to weed management that considers all available options, not just herbicides. For decades we've been taking this "herbicide treadmill" approach to weed management where we use one mode of action until it breaks, and then switch to another until that one breaks, and so on. It isn't sustainable. We must start including other preventative, cultural and/or mechanical weed management practices into our programs before it's too late.