More of the same as we near the end of April. April 2022 will finish as a cooler than average month, and the precipitation outlook for the week ahead does not look good. An estimated 1 to 4 inches of rainfall is predicted across the mostly saturated state (Figure 1).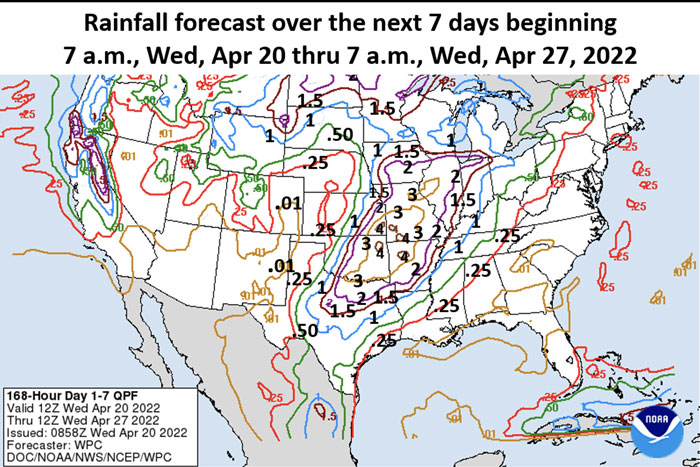 Air temperatures continue to be much cooler than normal, and soil temperatures have responded. In southeast Missouri, soil temperatures are averaging in the mid to high 50's as of Wednesday morning while in the northern part of the state soil temperatures are in the low to mid 40's.
A warm front will move in on Friday that will bring drier and warmer conditions for much of Friday and Saturday. Air temperatures may reach the low 80's in parts of the state. That does not last too long as a cold front starts moving into northwest Missouri on Saturday night. This will bring chances of rain and cooling temperatures as the front moves across the state.
Early next week we are looking at a return to cool conditions (Figure 2). There is potential for another rain-producing system by late next week. Visit mesonet.missouri.edu for real-time weather conditions throughout the state.
---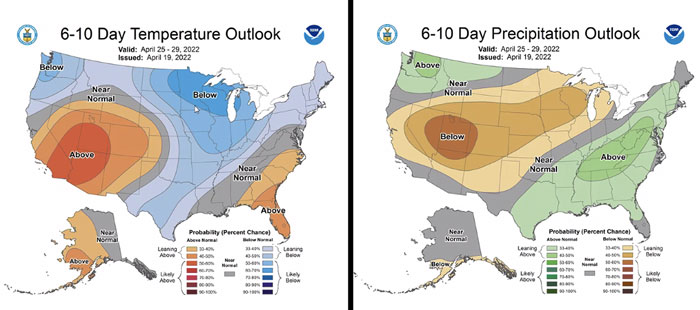 Image of rubber boots on a muddy lane by Edgar G Biehle via shutterstock