Sample Diagnosis
In 2022, MU Plant Diagnostic Clinic received a total of 492 samples which include 152 sets of digital images submitted by email and online digital diagnosis platform (Figure 1) and 340 physical samples for services of plant disease diagnosis, insect, weed and plant identification (Figure 2). There is an increase of 23% in physical sample number and 150% in digital sample number, comparing to year of 2021. Disease diagnosis accounted for 91% of the total physical samples processed (Figure 2). Similar with previous years, the lab received the most submissions in the summer months June, July and August (Figure 1 and Figure 3).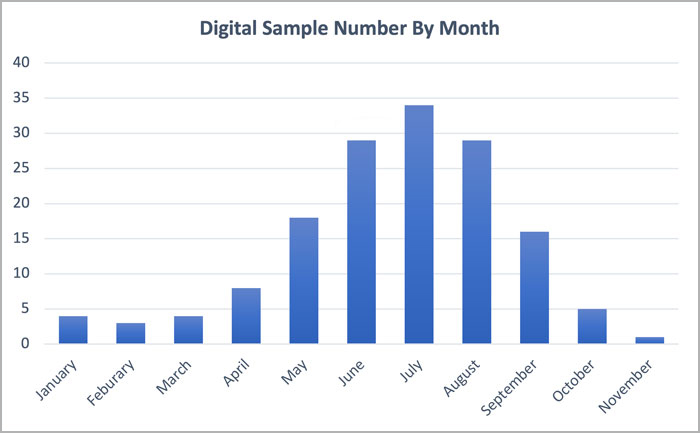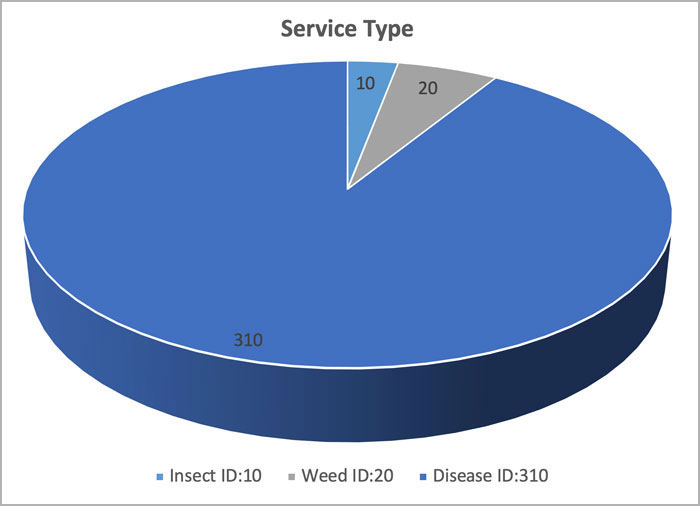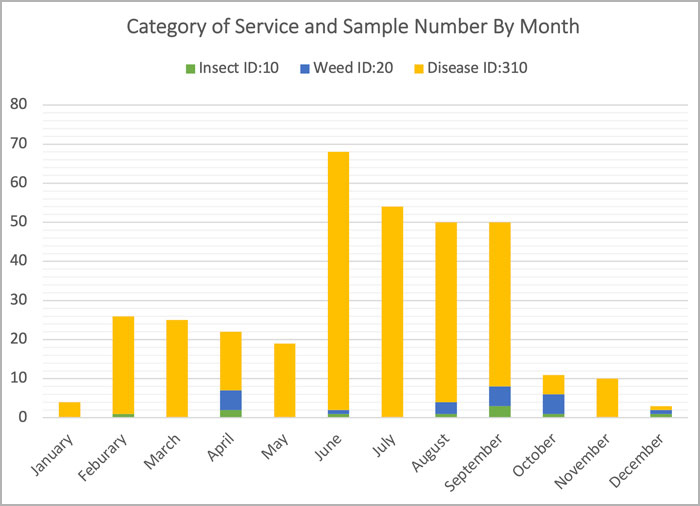 Sample Submission
Seven out-of-state samples were received from Illinois, Kansas, and Arkansas. From Missouri, 333 in-state physical samples were received from 55 counties. 66% of the samples were submitted by commercial clients. Submission received directly from educators and homeowners accounted for 24% of the total physical samples processed in 2022.
Sample Category
Samples submitted to the clinic were categorized into different crop types such as field crops, turf, ornamentals, vegetables and fruits. Ornamental plants were the largest sample category with 119 samples, followed by field crops (110) and Fruits (45) and Vegetables (31) (Table 1).
| | | |
| --- | --- | --- |
| Crop category | # of sample | % |
| Ornamentals | 119 | 34.79 |
| Agronomic/Field crops | 110 | 32.16 |
| Turf | 15 | 4.38 |
| Fruits | 45 | 13.15 |
| Vegetables | 31 | 9.06 |
| Insect/Weed ID | 30 | 6.43 |
Summary of Field Crops Diagnosis
Sugarcane samples submitted by a St. Louis based research group accounted for the most number logged into the clinic in 2022 with 55, followed by soybean (18), corn (16), and wheat (13). Due to short-period freeze and prolonged rainfall in the spring of 2022, the planting of both soybean and corn was delayed, which reduced the emergence of early-season diseases. As the majority of Missouri experienced severe drought for several months in 2022, very few fungal or bacterial diseases, especially foliar and root/crown rot diseases were detected due to lack of favorable living condition. Predominantly, physiological disorders, chemical damage and nutrient deficiencies were observed on corn and soybean early in the season and drought-related diseases such as soybean Charcoal rot and Sudden Death Syndrome were confirmed by the clinic through the growing season. The hot and dry condition increased the incidence of late season diseases in crops especially insect damage caused by spider mites. The Corn Tar Spot disease continued to spread through Northwest and Northeast counties of the state. Thanks to the dry weather, the dissemination and corresponding yield loss was severely limited. However, we anticipate the prevalence of this disease will persist in 2023 and more counties will report the presence of this corn disease. Another relatively new diseases such as Corn Bacterial Leaf Streak, Goss's Wilt and Target Spot of Soybean were not detected in Missouri in 2022. The clinic offered wheat virus screen service in the spring and fall and had detected the presence of all four viruses from samples collected from several counties in Missouri. We will continue to offer this service in the spring for all wheat growers in 2023.
CORN (Zea mays)
DISEASE NAME
SCIENTIFIC NAME
Northern Corn Leaf Blight
Exserohilum turcicum
Tar Spot
Phyllachora maydis
Abiotic Disorders
Chemical/Drought Damage
Gray Leaf Spot
Cercospora zeae-maydis
Anthracnose Leaf Blight
Colletotrichum graminicola
Diplodia Ear and Stalk Rot
Stenocarpella maydis
Physoderma Brown Spot
Physoderma maydis
WHEAT (Triticum sp/spp.)
DISEASE NAME
SCIENTIFIC NAME
Pythium root and/or crown rot
Pythium sp./spp.
Septoria Leaf spot
Zymoseptoria tritici
Sooty Mold; Black Dot
Epicoccum sp./spp.
Barley Yellow Dwarf Virus (BYDV-PAV)
Luteovirus Barley Yellow Dwarf Virus PAV
Wheat Streak Mosaic Virus (WSMV)
Tritimovirus Wheat Streak Mosaic Virus
Soil-borne Wheat Mosaic Virus (SBWMV)
Furovirus Soil-borne Wheat Mosaic Virus
Cereal Yellow Dwarf Virus (CYDV-RPV)
Polerovirus Cereal Yellow Dwarf Virus RPV
SOYBEAN (Glycine max)
DISEASE NAME
SCIENTIFIC NAME
Charcoal Rot
Macrophomina phaseolina
Damping Off
Fusarium sp./spp.
Environmental stress; Problem
Abiotic disorder
Herbicide Injury
Abiotic disorder
Purple Seed-stain; Leaf blight
Cercospora kikuchii
Pythium Damping Off
Pythium sp./spp.
Root Rot
Phytophthora sp./spp.
Septoria Leaf Spot
Septoria sp./spp.
Soybean Bacterial Pustule
Xanthomonas axonopodis pv. Glycines
Soybean Cyst Nematode
Heterodera glycines
Sudden Death Syndrome
Fusarium virguliforme
Pod and Stem Blight
Diaporthe phaseolorum var. sojae
Twospotted Spider Mite
Tetranychus urticae
SUGARCANE (Saccharum spp.)
DISEASE NAME
SCIENTIFIC NAME
Fusarium Root Rot
Fusarium sp./spp.
Fusarium Leave Blight
Fusarium sp./spp.
MU Plant Diagnostic Clinic is here to help you confirm if your plants are diseased. We encourage you to visit our website https://extension.missouri.edu/programs/plant-diagnostic-clinic and review submission guidelines before submitting your sample. If possible, you may take photos and send them to our email address: plantclinic@missouri.edu.
We just launched a new video, https://youtu.be/XEWVT9lUflo, about sample submission guidelines on YouTube to help you submit your sample step by step.
For sample submission and fee payment
Visit our new online submission system at https://extension.missouri.edu/services/plant-disease-sample. Fill out the submission form online using your computer or mobile device and make payment online securely with a credit card.
OR
Download the submission form at https://extension.missouri.edu/programs/plant-diagnostic-clinic/sample-submission. Fill it out and send to us together with your sample and payment. Check or money order. No cash please.
University of Missouri-Plant Diagnostic Clinic
Office 28 Mumford Hall
Columbia, MO 65211
Phone 573-882-3019
Email plantclinic@missouri.edu