Originally published in Today's Farmer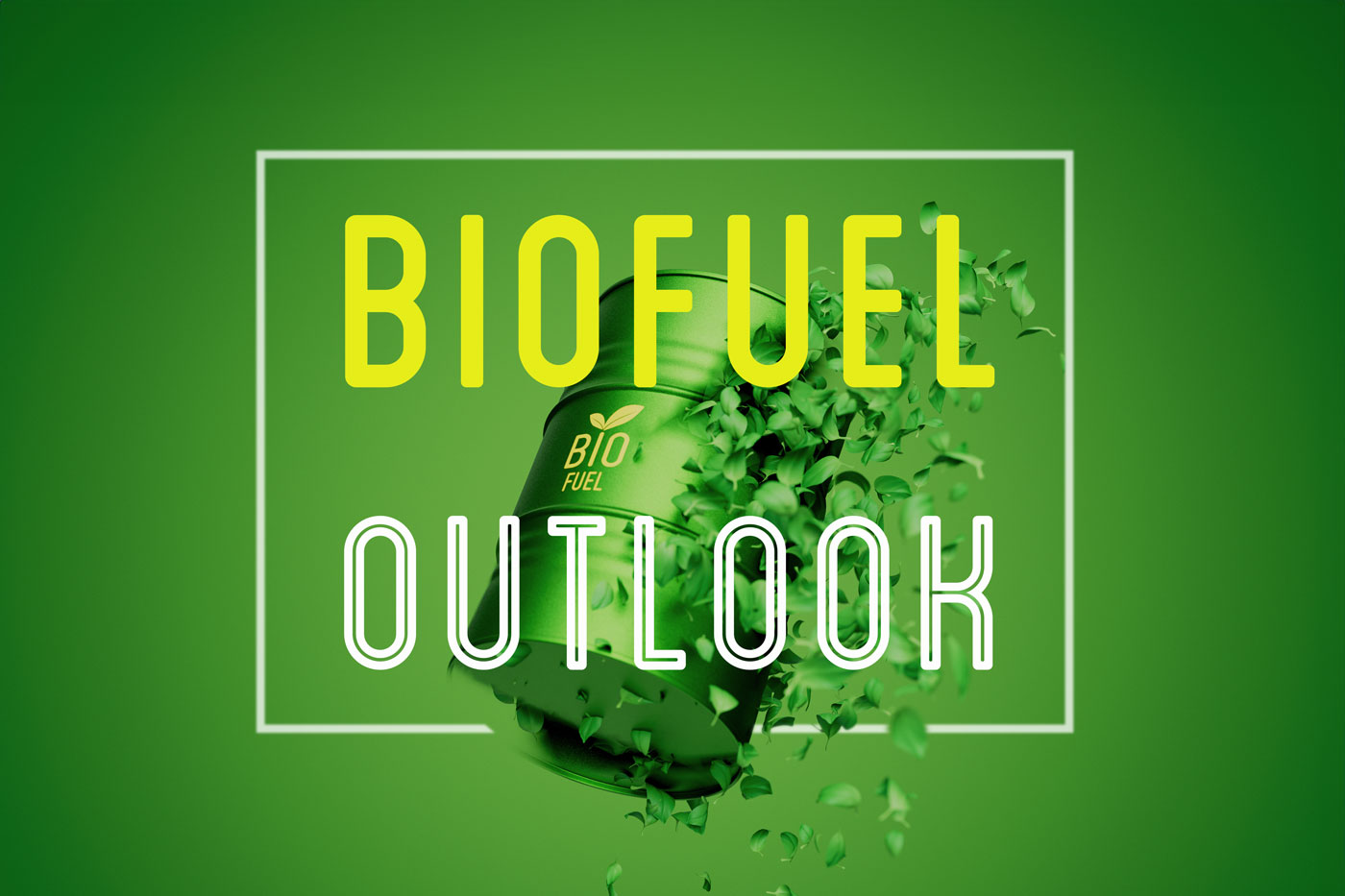 Writer's Commentary
Indicators that move frequently, such as commodity markets, make written commentary a risk and frankly a humbling occupation. There is an adage that economists never admit their forecasts were incorrect but instead provide an explanation of what changed and a NEW forecast. Admittedly, an infinite number of factors could change the outlook between writing, publishing, and delivering this content. My intention each month is to provide some context on current market conditions along with broader trends to help managers navigate business decisions.
Biofuel Outlook
Agriculture commodities have had a relationship with liquid fuel markets since Waterloo Boy tractors emerged across the countryside and diesel became a viable energy source to transport grain. This relationship has changed over time with innovations like ethanol, biodiesel, renewable diesel, sustainable aviation fuel and electricity. Corn used to produce ethanol represents between 35-40% of annual corn use while 20% of annual soybean production is used for fuel production (Chart 1). The share of soybean production used for fuel production has grown in recent years while corn use for ethanol has remained around 37%. Given the shares of total use, economics and policy incentives matter in the outlook for both commodities.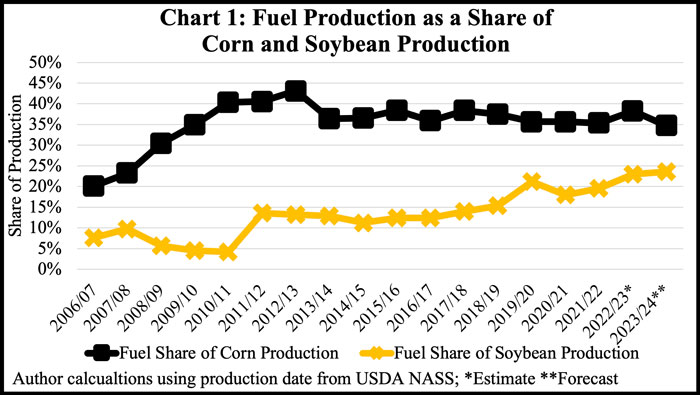 Through June 2023, corn used for ethanol for the 2022/23 marketing year is estimated at 4,246 million bushels- roughly 216 million bushels or 4.8% below the same period in 2021/22. Ethanol production was curtailed early in the marketing year on relatively high input costs to producers including corn and natural gas and below normal US gasoline disappearance. US ethanol production did increase throughout June on better returns to producers. A corn used for ethanol estimate of 5,225 million bushels in 2022/23 seems probable. Current forecasts for 2023/24 corn used for ethanol of 5,300 may be on the optimistic side given current economic indicators.
For soybeans, private investments in new and existing soybean crush facilities to meet expected demand increases for soybean oil have headlined the year. Monthly records for soybeans crushed are becoming expected and engrained. Early in 2023, there were announcements for 23 soybean crush plant expansions adding roughly 750 million bushels per year in crush capacity. Some of those expansion plans have been pulled back on "change in market conditions"- largely connected to higher soybean prices and lower expectations for renewable diesel demand due to EPA's set blending targets.
The Energy Independence and Security Act of 2007 Congressionally set minimum volumes of renewable fuels to be blended in the US fuel pool called Renewable Volume Obligations (RVOs). Those Congressionally set volumes carried through to 2022 then turned authority over to EPA to administer. EPA puts forward a proposal then asks for comments from stakeholders before making a final rule. The proposal for 2023, 2024, 2025 volumes was released December 1, 2022, and the final rule released June 21, 2023. Included in the final ruling was an overall increase in liquid biofuel blending but below the volumes included in the proposed rule and below what the biofuels industry was hoping. The 2023 total blending level was increased 120 million gallons from the proposed rule to 20,940 million gallons and up 310 million gallons from 2022 blending levels. However, 2024 blending at 21,540 million gallons and 2025 blending at 22,330 million were down 330 and 350 million gallons from the proposed ruling, respectively. All the growth in total renewable fuels came in the advanced biofuel categories while leaving conventional ethanol levels flat at the ire of ethanol and corn producers.
What does this mean for agricultural markets and producers going forward? It is a classic chicken and eggs conundrum where EPA is indicating that the industry cannot provide the crush capacity to support higher biofuel blending while the industry responds that they need certainty to make such large investments. For corn and soybean producers, the corn used for ethanol outlook remains roughly the same- flat, the top end optimism for increased soybeans crushed for fuel may have been curtailed. There is a lot of marketing moving impacts in the renewable fuels space. This article did not even cover sustainable aviation fuel or electric vehicles.