Barley and wheat are important cereal crops that are widely grown around the world for food and animal feed. However, like all crops, they are susceptible to diseases that can reduce yield and quality. Two such diseases are ergot and smut. Both diseases produce masses of dark colored fungal spores in heads, grains or ears of the plants, and both can cause damage and yield loss.
Ergot disease caused by Claviceps purpurea infects the grains and produces a hard, black sclerotium that replaces the grain in the head. This sclerotium, also known as "ergot," contains alkaloids that are toxic to both humans and animals. Ingesting ergot-infested grains can cause hallucinations, convulsions, and gangrene.
In crops, ergot can also cause significant losses in yield and quality. University of Missouri Extension just released an article, Time to Scout for Ergot, reminding growers to start scouting for this disease.
In contrast to ergot, which is caused by a single pathogen and has one name, the name and causal agents of smut diseases vary depending on different host. For examples, the covered smut on oats and barley is caused by Ustilago hordei while it is caused by Tilletia laevis on wheat; the loose smut is caused by Ustilago nuda on barley and by Ustilago tritici on wheat (Figure 1).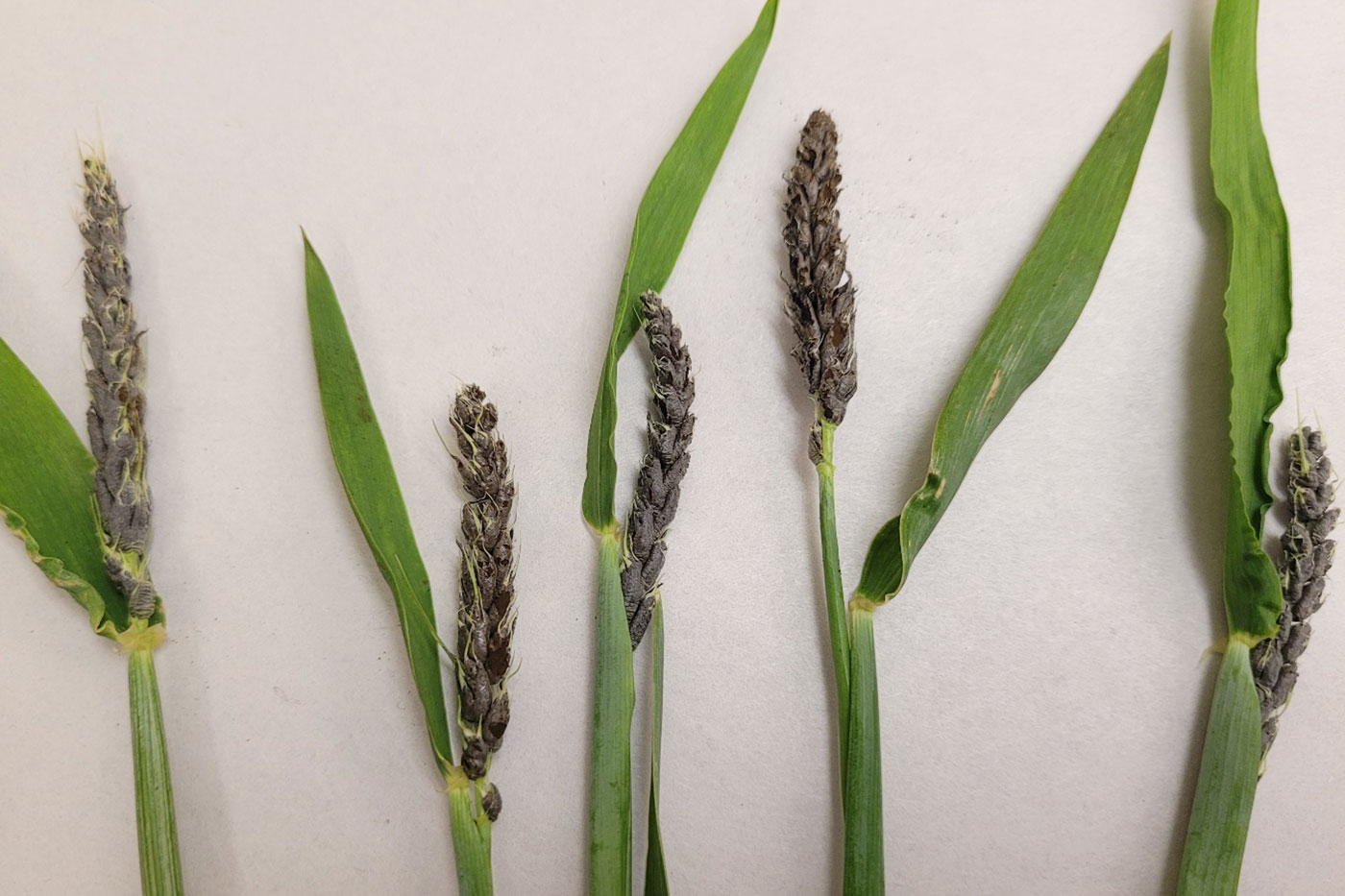 This fungus infects the ovaries of the plant, producing masses of black spores that replace the grains in the barley head (Figure 2A). Since the spores are produced outside the seed coat, they can be dispersed by rain or wind and infect other healthy plants (Figure 2B). Unlike ergot, loose smut is not toxic to humans or animals, according to recent scientific studies. However, it can change of the flavor of animal food as well as be a potential allergy for certain animals. Therefore, it is suggested to scout for this disease after heading, harvest the crops as soon as disease symptoms show up in the field, and shake off spores before processing the crop. Similar to ergot, smut cause losses in yield and quality of cereal crops. The spores can reduce the weight of the grain and lower its germination rate.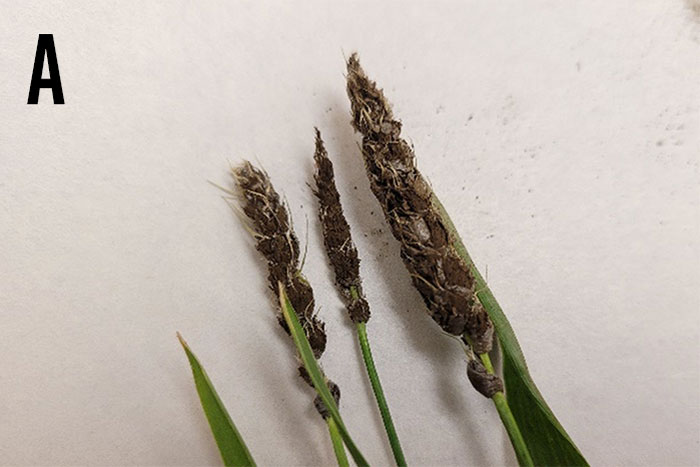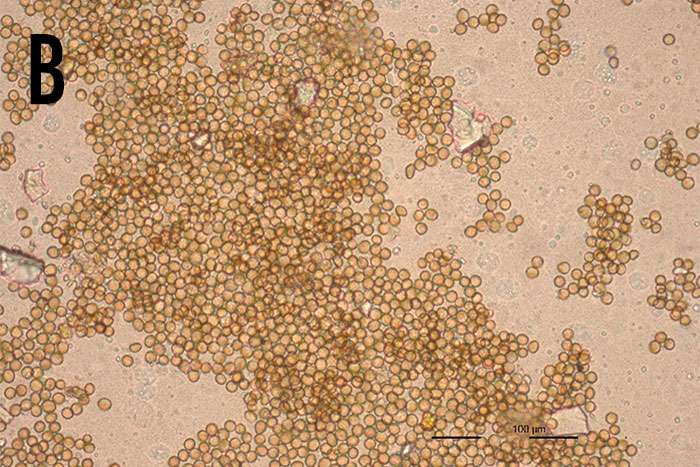 One of the main differences between the two diseases is their mode of transmission. Ergot spreads primarily through the windborne dissemination of the sclerotia, which can infect neighboring plants. As sclerotia fall to the soil surface during harvest, they can survive harsh winter weather conditions and germinate in the next spring to produce spores that can infect plant hosts. In contrast, smut spreads primarily using infected seed. If infected seed is planted, the resulting crop will also be infected with the fungus. This makes the use of resistant varieties, certified seed, and seed treatments an integral part of managing smut disease.
Another difference between the two diseases is their symptoms. In the case of ergot, the infected grains are replaced by hard, black sclerotia that protrude from the head of the plant. In some cases, the sclerotia may be visible from a distance as a dark purple or black coloration of the head. In the case of smut, the grains are replaced by masses of black spores that are usually visible only when the head is broken open.
Control of ergot and smut requires different management approaches. The use of resistant varieties and crop rotation are effective in controlling smut, as is the use of seed treatments. In contrast, the management of ergot requires a combination of cultural practices, such as crop rotation and the removal of infected plants, and chemical control methods.
In conclusion, while both ergot and smut can cause significant damage to barley and wheat crops, they are caused by different fungi and have different modes of transmission, symptoms, and management strategies. It is important for growers to be able to identify the differences between these diseases in order to implement effective management practices and protect their crops from damage.