Sample Diagnosis
From January to July 2023, the MU Plant Diagnostic Clinic has received 232 physical samples and 125 digital samples (Figure 1). Among all the physical samples, plant disease diagnosis accounted for 210 out of the 232 samples, while 12 samples are for insect identification services and 11 samples for weed identification (Figure 1). The month of June was the busiest month so far in 2023, with 90 samples throughout (Figure 2). Digital Sample submission has increased by 89% since this program was implemented last year (Figure 3).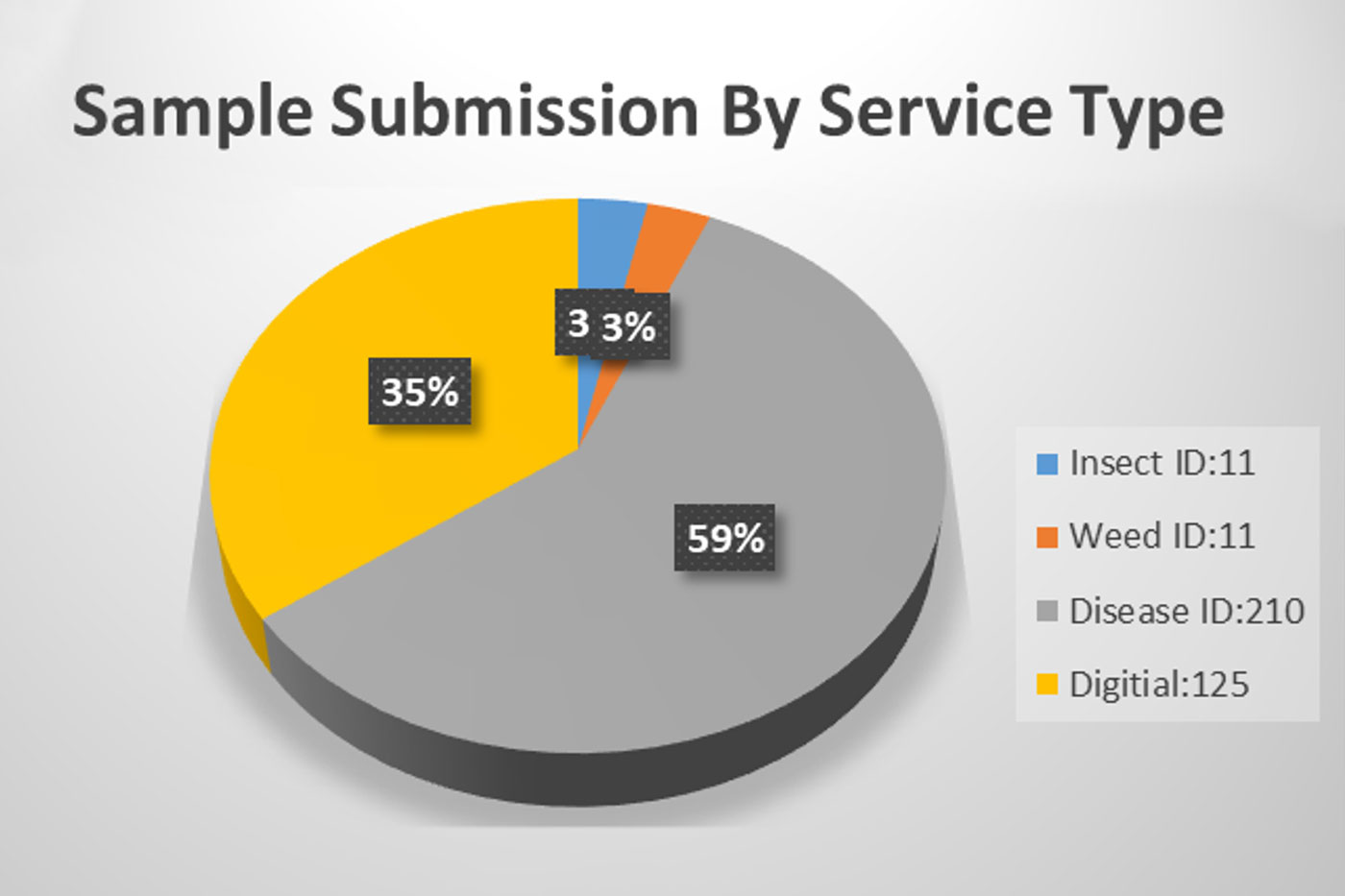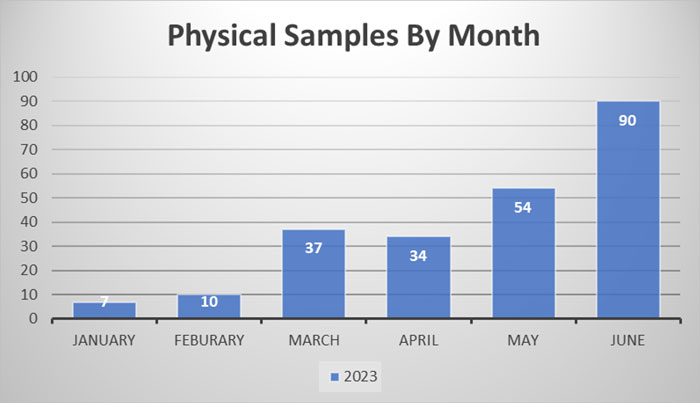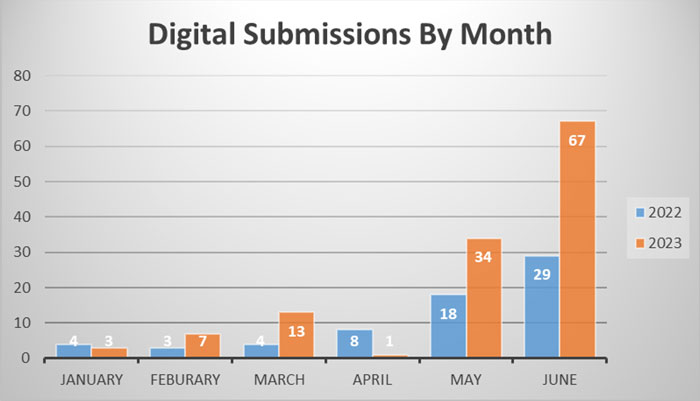 Field Crops are the largest sample category with 103 samples, followed by ornamentals (53) and vegetables (25) (Figure 4). Soybean (48) and corn (14) compose the two major crop categories, followed by wheat (32) and industrial hemp (7) (Figure 5).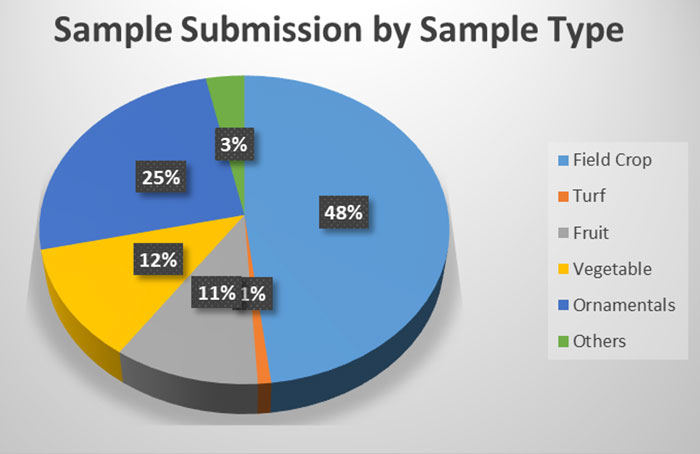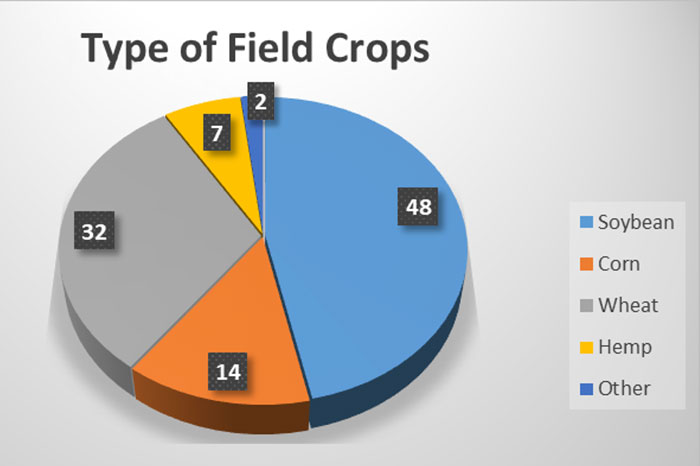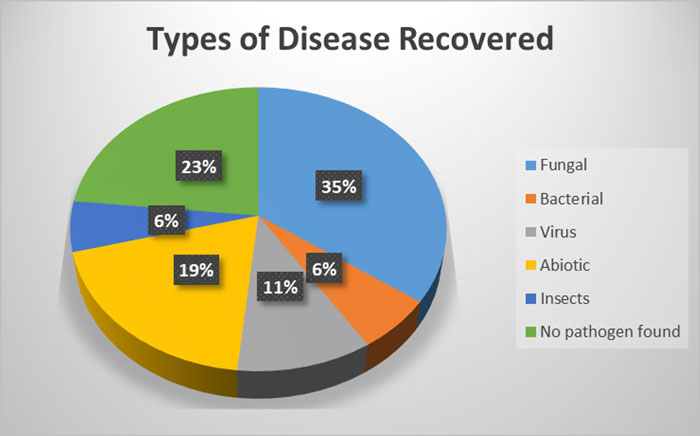 Thanks to the free wheat virus tests offered by the clinic (https://ipm.missouri.edu/cropPest/2023/3/wheatVirusTesting-PT/), we have received 32 wheat samples which is a big leap of sample number comparing to total ten samples received in 2022. We have tested several wheat viruses positive in Missouri this year, including Wheat streak mosaic virus (WSMV), Wheat spindle streak mosaic virus (WSSMV), Soil-borne wheat mosaic virus (SBWMV), Barley yellow dwarf virus (BYDV) and Cereal yellow dwarf virus (CYDV). The geographical information, disease and plant variety data had been collected to monitor the distribution of these viral diseases and plant resistance among different varieties so that they can be used to develop research program for identifying resistant lines that help controlling wheat health problems. Our clinic remains committed to identifying and managing these viruses to help farmers protect their wheat crops.
Drought conditions during the spring have posed challenges for early-season soybean growth and development and there was an outbreak of multiple soil-borne fungal pathogens, such as Charcoal rot caused by Macrophomina phaseolina, Fusarium crown and root rot caused by Fusarium spp., and Rhizoctonia root and stem rot by Rhizoctonia solani that affected soybean seedlings and accounted for 28% of soybean samples diagnosed. Charcoal rot disease is a dry-weather disease, and normally shows up in the mid to late summer, causing plant wilting and death. It can also produce microsclerotia inside infected tissues, which can overwinter in the soil or plant debris. Fusarium crown and root rot induces yellowing, wilting, vascular discoloration and root rot, while Rhizoctonia root and stem rot results in damping-off, root rot, and canker formation, reducing plant vigor. All three diseases have been observed among the most of submitted samples and they were prevalent all over Missouri this year. Fortunately, drought conditions have suppressed oomycete activity associated with Pythium and Phytophthora species, providing some relief from their destructive impact. In addition to fungal pathogen and environmental stress, several soybean samples were evaluated and suspected to have herbicide injury with the help of MU Extension Weed scientist.
Tar spot, a fungal disease caused by the pathogen Phyllachora maydis, was observed almost a month earlier this year in Missouri corn fields comparing to 2022. This disease is characterized by the presence of raised black lesions or "tar spots" on corn leaves, leading to reduced photosynthetic activity and potential yield losses if left unmanaged. Farmers and growers can always check the spreading of this disease by visiting "Tar Spot of Corn Map" (https://cropprotectionnetwork.org/maps/tar-spot-of-corn). It is highly recommended to submit a physical sample to the clinic for confirmation and reporting use.
For appropriate diagnosis, the MU Plant Diagnostic Clinic can help you confirm if your plant has this disease. We encourage you to visit our website (https://extension.missouri.edu/programs/plant-diagnostic-clinic) and review submission guidelines before submitting your sample. If possible, you may take photos and send them to plantclinic@missouri.edu.
We have a 4-minute video about sample submission guidelines on YouTube to help you submit your sample step by step. Please click here: https://youtu.be/XEWVT9lUflo.
For sample submission and fee payment, you can either:
1) Visit our new online submission system at https://extension.missouri.edu/services/plant-disease-sample. Fill out the submission form online using your computer or mobile device and make payment online securely with a credit card.
or
2) Download the submission form at https://extension.missouri.edu/programs/plant-diagnostic-clinic/sample-submission. Fill it out and send to us together with your sample and payment. Check or money order. No cash please.
Contact Information:
University of Missouri-Plant Diagnostic Clinic
28 Mumford Hall
Columbia, MO 65211
Phone: 573-882-3019
Email: plantclinic@missouri.edu
Twitter: https://twitter.com/MUplantclinic