Missouri Pest Monitoring Network


Brown Marmorated Stink Bug I.D.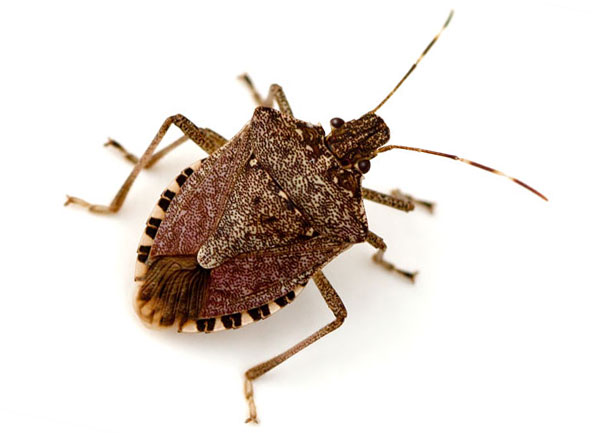 Identification of adult
(one of two damaging stages as well as the stage most likely to be captured by traps; nymphs [= immature stages] can sporadically be captured in traps as well)


2/3 of an inch long and wide
To distinguish them from other stink bugs, look for lighter bands on the antennae and darker bands on the membranous, overlapping part at the rear of the front pair of wings.
Identification of nymphs
(one of two damaging stages)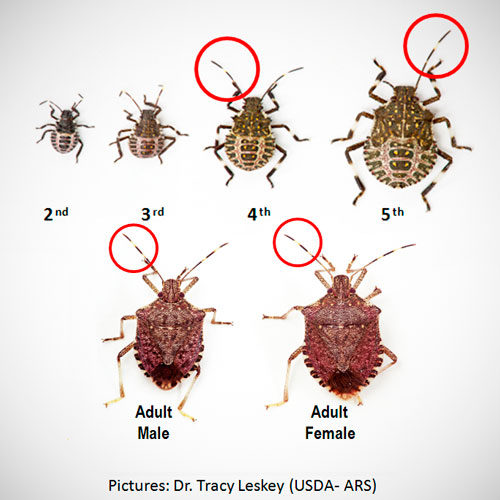 Five nymphal stages, or instars
Nymphs are more brightly colored with red and black, unlike the adults who blend in very well with bark.
The first instars, which have a "tick-like" appearance, are not very active and remain around the hatched egg mass.
Characterized by dark reddish eyes and a yellowish-red abdomen that is also striped with black.
Legs and antennae are black with white banding.
Identification of eggs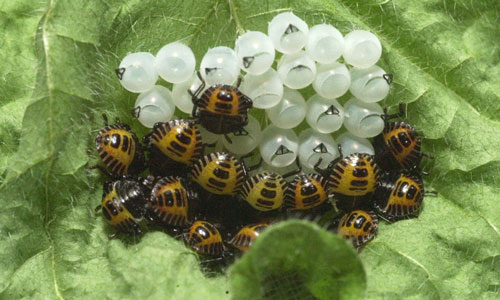 Eggs are white or pale green and are barrel-shaped (1.6 x 1.3 mm)
Attached, side by side, to the underside of leaves in masses of 20 to 30 eggs.